I apologize that I have not been doing a very good job keeping up with everyone else's blog. I've been trying to take care of a lot of things around here, plus have some moments of fun and relaxation. Of course, I know you all struggle with the same dilemna. But here I go, I'm going to ask for your help.
I know a lot of you are dog owners and you are very creative, smart, caring dog owners. So I'm calling on your expertise.
My poor Java ends up locked up in her crate while I'm at work. That ends up being about 10 hours — 8 hours work and two hours driving time. I try to work at home when I can or work at home for a couple hours and then go to work, but my boss can only be so understanding about my pet and my unplanned predicament of suddenly being on my own.
Locking Java up in a 33″ x 20″ x 26″ crate all day was never part of the plan when I adopted her. It is basically inhumane and causing me endless amounts of guilt, so please don't tell me how awful it is. I feel bad enough already. What I need is a solution.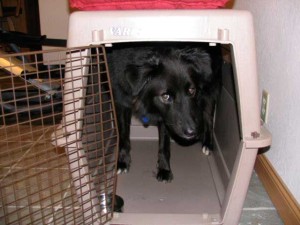 I've tried leaving Java out loose in the house but she chewed up the back of a leather couch and a few rugs and who knows what she'll start on next, so that hasn't been a good option. She does manage to control her bladder all day but I don't like that she has no choice in the crate and that she's in such a cramped space that she can't at least lay on her side and stretch her legs out.
I don't have a good place to corral Java off and I don't know if a gate would hold her anyway. So I've been looking at doggy play pens as an option. The large one in the style shown below is 46″ x 46″ x 28″ — not a great amount of space but much better than her current crate size. I also like that it is foldable so I could take it on the road with Java and me also.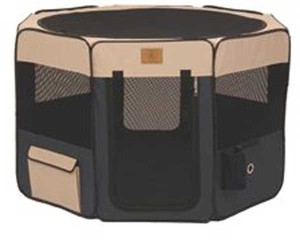 But before I go ahead and order and waste perhaps more money on something that won't work, I thought I'd ask the experts. What do you think? Do you know of a better option that is doable for a person who's kind of in limbo as far as where she'll be living eventually?
Thanks in advance for any advice or ideas you can give me. I'm hoping you'll tell me the play pen will work okay because I sure haven't found anything else and I want to resolve this as soon as possible.