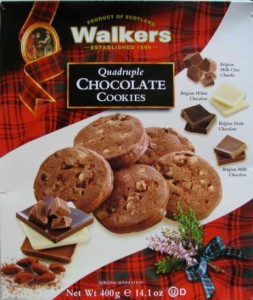 Costco has quit carrying Walkers Quadruple Chocolate Cookies! The cookies are made in Scotland but there was a website on the box so I figured, surely I can have the cookies airlifted to my home!
But no!!! Walkers website

did not list the Quadruple Chocolate Cookies anywhere!
The closest cookie that I saw was the Belgian Chocolate Cookies, a far cry from
QUADRUPLE
chocolate cookies, which are made with Belgian while chocolate, Belgian dark chocolate, Belgian milk chocolate and to top it off have Belgian milk chocolate chunks!
I've been buying these things for at least eight months. They cannot do this to me!
How much pain and frustration is one human being expected to bear!