I've written a lot in the past couple days, but stopped myself from posting what I wrote. I've been caught up in thoughts about things H said to me before he left, trying to figure out what they meant, and come to some sort of peace about it.
A friend said to me today, "People can say what they want to say about you and you can't stop them. But you do have a choice in what you do with those words. Sometimes there's some truth and you can learn from that. But when what they say is pure judgement, you choose whether you are going to allow those words to hurt you. You choose how you see yourself and what kind of person you are going to be."
Trying to push bad messages out of head… Baking cookies helps. I haven't figured out if baking my own cookies actually saves me any money, but they sure taste better than store bought! And hey, they are low fat, although not low sugar, well, and there is the chocolate. Never mind…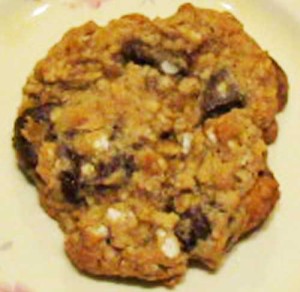 I went to physical therapy yesterday. OUCH! Still hurting from man digging at shoulder to break up scar tissue.
When I walked into the PT waiting room, there was another woman waiting. She was blind and had a seeing eye dog, a German Shephard, lying at her feet. As I sat down, she asked, "Who are you?"
"Oh, my sister's name is Mary. I'm J and this is P." she pointed to her dog.
J paused, and then said, "I was crying. I'm so glad you're here."
I wasn't sure what to say to such an honest announcement, So, clumsy me, I asked about her dog. Then I told her about Java. We talked until J was called into her appointment.
J might have thought I was doing her a favor by keeping her company while she waited, but she did so much more for me with just those few words, "I'm glad you're here."
It's kind of strange, but even with how sad and hurt I feel, somehow I think I feel better right now than I've felt for years. Not like more happy, cheery better, but I feel more-better in some way.
It's not that the pain is gone and there is still a certain level of fear, but there is also a certain level of peace. Because, after all, I can't control another person's feelings or actions. I can't do anything about that. Believe me, I've racked my brain for a way that I can, but there's nothing I can do.
And I can't do anything about the housing market and whether someone buys our house or not.
And because of my age and the job market and that this is a scary point in my life to be starting over, I feel pretty vulnerable, but again, there's nothing I can do about it besides try to hold on to the job that I have and be as thrifty as possible.
And all the decisions cannot be made and carried out today. I don't have the time, energy, or know enough about what tomorrow will bring to carry out that kind of magic.
So I've let a lot of things go. And with letting go, comes a certain level of peace, still interrupted at times by a sense of panic and scurrying about, but after I wear myself out with that, I fall back into peace.
Maybe the "more-better" I feel is that I feel more myself. There's no one to tell me how bad and abnormal being me is, unless I carry certain conversations around in my head. I need to stop doing that. Because what a relief when I do! I mean I'm really glad to be who I am. How strange…
And that's probably thanks to my friends, who are full of compliments and praise. Considering that I'm not always so nice and fun to be around, I deeply appreciate them seeing past the sadness and hurt to the person that lies underneath all that crap. I'm thankful for the gentle nudges to keep going and that they are willing to turn on the tough love if I need it.
Maybe the "more-better" is just feeling more loved and cared about. Maybe it's being more open to receive and anxious to give back.
Whatever it is, it's a good thing.
I'm slowly returning to the Mary (or Maery) I like to be around. The one who wants to make people laugh, wants to reach out and help someone, the one who cares and does something about the things she cares about.
Epilogue
When I was done with physical therapy and at the desk to make my next appointment, J was waiting to do the same. I noticed that she tried to start conversations with other people she heard come into her space. Not everyone responded. And she had no visual cues to tell her anything about the person she was addressing or how they were reacting. I thought she was amazingly brave, and it was too bad not everyone responded back to her.
But I thought the most amazing part of that was that the people who ignored J did not stop her from trying to communicate. I think that was a lesson just especially placed in my lap for the day – to not be so easily discouraged when my attempts to connect with people are rejected or don't go very well. The point is to keep trying for those connections because you meet some interested, fun, and wonderful people that way, even if it only ends up being a five minute conversation in a waiting room.