Travel and Adventure Writing Workshop with Shelby Gonzales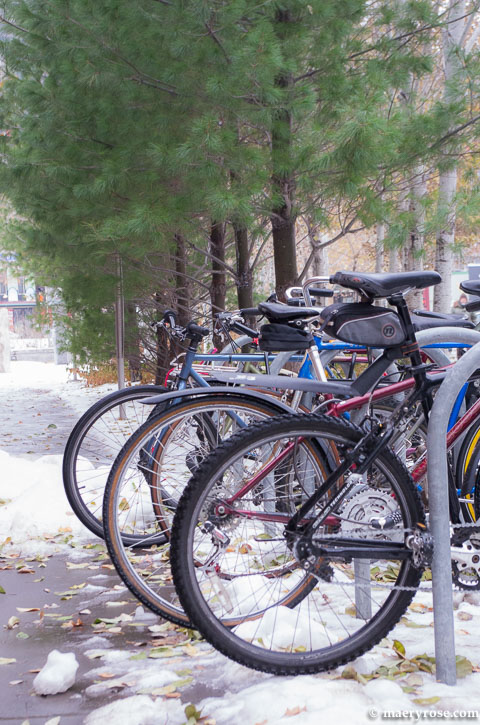 This last weekend, Midwest Mountaineering had an Outdoor Adventure Expo. There were sales inside the store (where it was an absolute zoo) and a tent setup where vendors of snow shoes, ski equipment and winter camping gear filled the space. There were also tourism and vacation agencies hawking their services: parks, trails and winter event information: groups trying to stop sulfide mining and other groups like MORC (Minnesota Off-road Cyclists).  Aaannnddd, there were one hour presentations on Saturday and Sunday that took place in a couple buildings on the U of M campus.
For the next few days, I'll post about some of the presentations I went to. The first workshop I attended  was on "Travel and Adventure Writing" with Shelby Gonzales.
Shelby  had three writing techniques for us to try:
1. Story Matrix
First Shelby had us think of an activity we've done or a destination that we were to plug into the top of the matrix. In the left column were questions to answer. The questions help you think of a twist for your story as it brings out what was special about your experience that will make people want to read it. Below is my example.
| | |
| --- | --- |
| | First time mountain biking at ladies night at Hillside |
| Tried something new | Went mountain biking |
| Failed at something | Couldn't go more than a few yards without putting a foot down |
| Unexpected experience | Despite inexperience and fear, I also felt very excited, like this is something I can actually do. I was able to do things on the mountain bike I could never do on my townie bike. |
| Went someplace cool | Hillside mountain biking trail has the reputation of being pretty tough and not a beginner course |
2. Word Dash
This was a free-writing exercise that I'm pretty used to doing already. We were to take what we'd come up with in the Story Matrix and use the writing prompt Shelby provided.
The rules:
Hand doesn't stop moving until timer dings
Stuck? Write the prompt again and again until something comes
Don't think just write
The prompt we were given was: I remember…
I didn't come up with anything worth repeating so let's move on to the next exercise.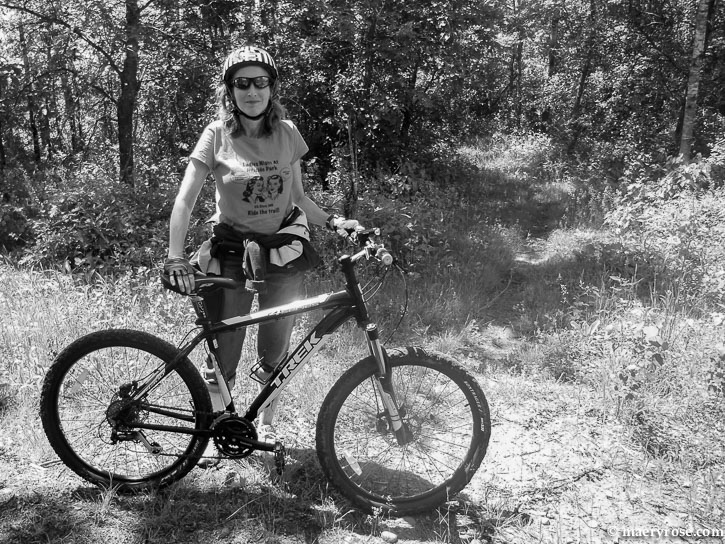 3. Memory Mining
We were to take an event and use one the following words to mine as much of what that word brought forth as we could. The words were:
Hear
Taste
Touch
Smell
Feel (emotion)
Expect
Meet
I chose to write about trail riding in Patagonia, Arizona and used the phrase "when I hear".
When I hear the crunching of hooves on the stones and the grit  of a dry wash, I think of the old west. I look up at the dirt walls on the left and right and the rocky cliffs, wondering if anything wild, man or beast, is hiding up there waiting to pounce.
When I hear the shale dropping away from under my horse's feet to the bottom of the hill below, I throw my trust to the horse, who knows how to navigate this world better than I do. (He's my nieces horse and I'm trusting he's as smart and talented as she is. )
When I hear my horse's hooves slide and seek solid ground to dig into, I wonder whether we will soon be racing down the hill like "The Man from Snowy River", minus the snow and the whip and the slow motion that made the movie scene a thrilling and beautiful thing instead of the scrambling panic in the imagination of a Minnesota flatland girl.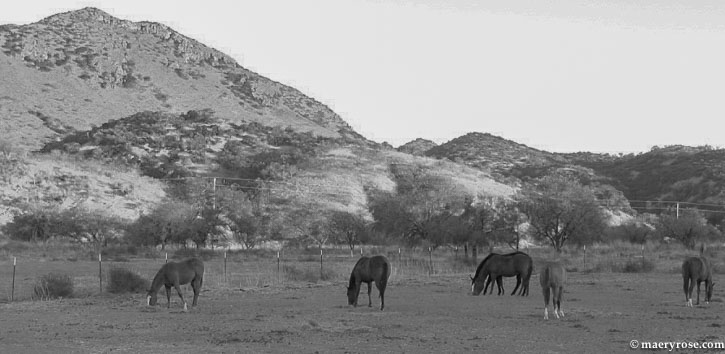 And here are a few things to remember if you are a photographer, writer or video movie maker:
Don't let your goal of telling a story mean that you are buried in a notebook, computer, or camera. Don't let telling a story blind you from living the story.  Be sure to spend as much time looking for real instead of through the lens of your creation.
Remember that writing or photography is a gift to people who haven't experienced what you are experiencing. It is a way for you to let someone who may never get to do what you are doing know what it might be like if they were right there with you.
Happy Monday! May your week start off  with a whiz bang bundle of peace and happiness.