Sightseeing and Ingenuity at Its Best
It was kind of a lazy day today. I went to church in the morning. Came home and had lunch. Then put the tarp I bought yesterday on the kennel.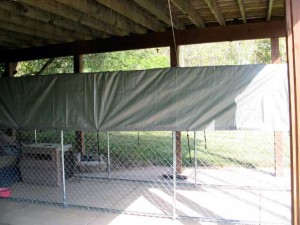 I fixed a tire on this thing.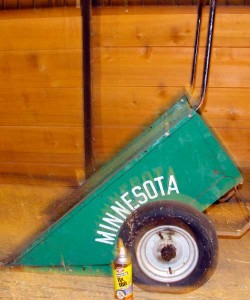 I've been waiting about three years to get this tire fixed. No one but me to fix it now, so I picked up a can of tire repair spray yesterday. Who knew repairing a tire was so easy? Hopefully I can use it to pick up manure now, so I don't have to drive the tractor out everyday.
Then I decided to take Java on a walk around the neighborhood instead of driving to the park.
A couple doors down is a farm where they grow berries and customers come pick them when they are ripe. Once the berries are gone, things are pretty quiet at the farm until close to October; when people start thinking about pumpkins, Halloween, hay rides, and bon fires. Whole bus loads of kids and car loads of families show up then to pick these.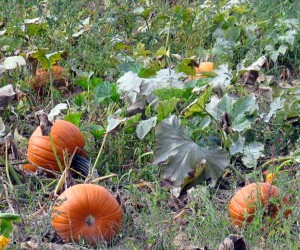 They also offer hay rides through the woods and bon fires after dark.
Farther down the road I saw this mailbox. I like the sunflowers growing around it. Mental note – cute idea for when I have my own house (only need cuter mailbox arrangement).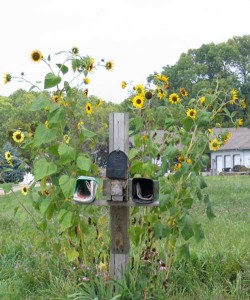 I really like this place. They recently tore down the old farmhouse and put up a new house. So the place is a blend of old and new buildings — the best of both worlds.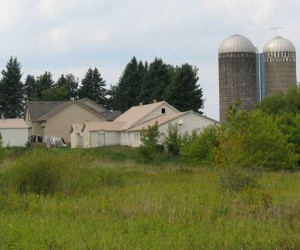 It has my favorite things — a clothesline, a big garden plot, apple trees, stucco house exterior, and a big porch on front. You can't see clearly in the photo, but there's a porch swing on the left side and the porch's right side is screened in so you can sit outside even when it's buggy out. Perfect.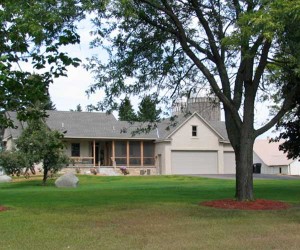 I specifically wanted to walk the neighborhood because there were some new calves down the road I wanted to get photos of. Unfortunately, they were hiding behind other cows and trees. Totally uncooperative.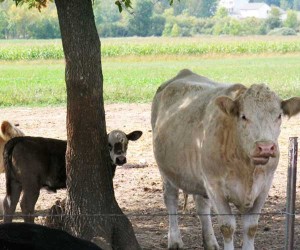 This guy gave me the stink eye.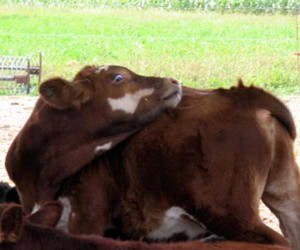 But check the three little pigs out! The middle one's face is covered with mud and he is grinning from ear to ear. I have never seen such a happy pig!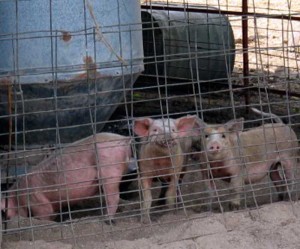 This menacing looking cat was totally bummed that we saw him and dropped to his stomach to hide right after I snapped the photo.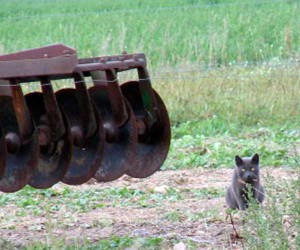 When I got back home, I decided to retackle the problem of getting the apples out of the top branches of the apple tree. When I was a kid, my Dad had put a coffee can on a long pole that worked perfectly for scooping apples out of a tree.
I couldn't find a coffee can but did find an ice cream bucket in the garage. And the closest thing I could find to a long pole was a light bulb remover on an extender. I stapled the bucket to the plastic suction thingee on the end of the pole.
Java couldn't even bear to look at my lunacy. But I was totally amazed at how brilliant I was and was jumping up and down in my enthusiasm.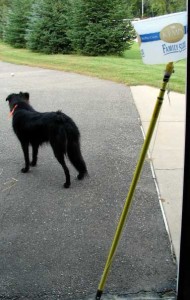 Unfortunately, I knocked the pole over and when it hit the ground, the bucket came off. Who knew that staple guns put staples in straight and don't bend the ends over?! How dumb is that?! I guess they assume you are stapling into wood. So…
I went to plan B. I stapled the bucket to a rake. I could remove the bucket the next time I needed to use the rake. (I never rake anyway.)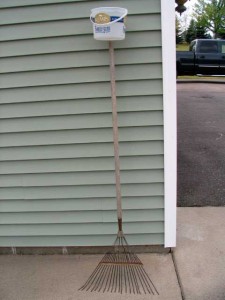 Not really. There must be something about the edge of a coffee can that is firmer and sharper and pops the apple off the branch better. I could pop the apple off (more like bash it), but only two of the apples I picked stayed in the bucket. All the others fell to the ground where Java grabbed the apple and ran off with it.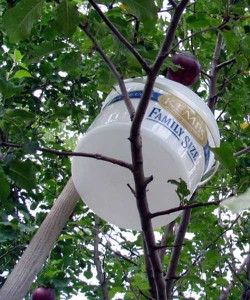 I should be in a sitcom! I totally crack myself up! It turned out to be my Polish apple picker. My adoptive Mom (the Polish one) and Dad would be so proud of me.
I was going to ride Murphy after that, but all I felt like doing was sitting under the deck, reading, and occasionally throwing the frisbee for Java. It felt good to sit and relax for awhile.
Java looks a bit bored (and dare I say disapproving) with my inactivity.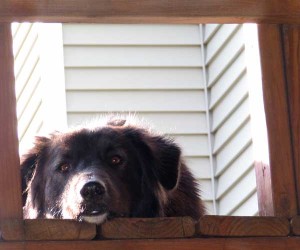 For the most part, Java was anything but relaxed. See that blur?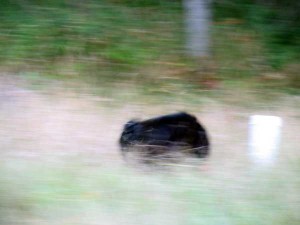 That's pretty much how Java looked all afternoon running through the long grass.