Java spent her first day in the kennel today. A realtor was coming for a walk through the house, so I figured it was as good a day as any to give a full day a try.
Java seemed to be just fine when I got home. But I don't think she understands that she can go to the bathroom in the kennel. The whole point of putting her outside is that then she wouldn't have to hold it so long. Yet she doesn't go to the bathroom in there, even after being in there for 11 hours today. Maybe pick up a pile from the yard and put it in there so she knows it's okay?
She sure was excited when I let her out! Jumping up and down, dropping at my feet for belly rubs, running out a ways, then running back and body slamming me. I need to break her of that habit.
I threw the frisbee for her and she caught it 4 out of 5 times, 2 times with all four feet off the ground. She's gotten pretty darn good.
And I gave her huge, gigantic, truck loads of praise when a neighbor dog passed through our yard and Java greeted the dog, but when I called her, she came running right to me! I almost passed out in shock!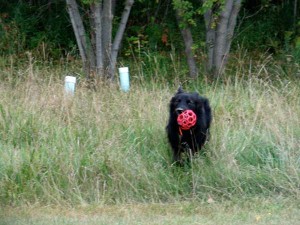 It's really busy at work and at home right now. I stayed up until midnight cleaning last night for the realtor visit. I don't know why I bother. But that's not much different than most nights as I'm up until 11:00-12:00 and then I get up at 5 AM to get ready for work. Really tired.
If I can just get past the standup training I'm doing on Wednesday and Thursday next week, I'll be hugely relieved. I hate to live my life according to milestones to "get through" but that's kind of the way it is right now.
Hopefully, one of these days I'll have positive milestones like writing a draft of a novel, revising the novel, submitting the novel, getting an agent, being published, appearing on Oprah. It could happen!