Thanks to everyone for your suggestions on crates and kennels. I went looking at Fleet Farm and the crates are about the same price as the kennels. I guess you are paying for having something inside and being able to fold it down and take it with you. However, the kennels are bigger, of course, and allow the dog to be outside.
The question is whether being outside is good or bad. I don't think Java will bark very much. I can put the kennel on the cement under the deck so even if I don't buy a cover, she'll be completely shaded and somewhat protected from rain. Most people seem to worry about the cold of winter being hard on a dog, but I worry more about heat and humidity. In either case, I did manage to gate her off in a hallway for five hours the other day so that may be an option in either extreme cold or heat.
I can put her current crate in the kennel for sleeping as she does like to cuddle up in there, at least until I can find a cheap dog house. Although I'd like to put something soft in the kennel for her to lie on, putting a blanket or her pillow in the kennel will probably lead to her chewing them up.
I've narrowed my choices down to two options:
A 7 x 5 x 10 kennel with cover for $260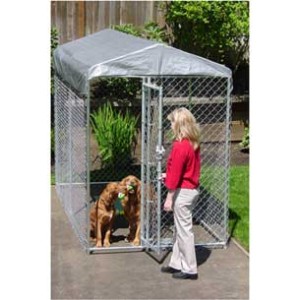 Or a 6 x 5 x 15 kennel without a cover for $219 (additional $70 for cover which I could buy if and when I need it). I'm leaning toward this one but I need to measure the space I'm putting it in to make sure it's not too long.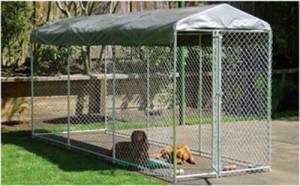 Hey! Look! There's two dogs in there! Maybe… Oh, never mind.
I need to go back to Fleet Farm with the truck to actually buy and pick up the kennel. The thing weighs about 185 pounds so I'm hoping someone will load it for me. I figure I can drag it out of the truck when I get home.
I would have picked it up today but I'll have to unhitch the horse trailer and I wanted to wait until after I go trail riding tomorrow in case I have problems hitching the trailer back up again.
The temperature is changing drastically — dropping down to 48 degrees tonight and only reaching the upper 60s tomorrow, plus it's supposed to rain in the afternoon. So I'm hoping to get ready tonight (might have to get out long johns) and go trail riding early in the morning.
I'm planning on taking Luke to Crow-Hassan, a park we've never been to before. The place to park your trailer is somewhat hidden and easy to drive by so I'm hoping I don't mess it up. I kind of have a circle of roads picked out that should bring me back around if I do pass it by.
I'm hoping that the cold won't prevent us from having a good ride because I sure need one! Maybe I'll get in a ride on Sunday too because Labor day weekend H is taking the truck for four days to go camping.
Most everyone I know is going out of town for Labor Day weekend so I need to come up with a very ornate schedule of activities to prevent myself from crashing and burning. The trails are my sanity steps and relaxation roads so I fear going too long without hitting those playful, powerful paths.