I've been on the go a lot lately and have some catching up to do. Wednesday evening I went out to dinner with a friend. It was nice to go out to eat and spend time visiting with her. We were going to hit some balls on the driving range after dinner but the range was closed by the time we got out there, which was hugely disappointing. I actually practiced hitting some balls at home to prepare for going to the driving range. Okay, so I'm weird.
I don't really have enough time for golf with all the other things I do but when you have a cool golf bag like this, how can you not get out there and show it off every once and awhile?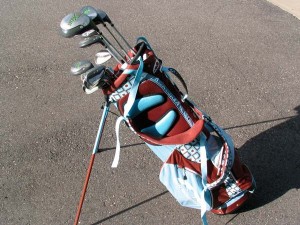 I look at golf as a social thing. I don't think I'll ever actually become proficient at it. Instead, I think of myself as entertainment for others on the golf course.
Thursday I took the day off from work since I already had Friday off anyway and a four day weekend sounded mighty fine.
My friend B came over Thursday afternoon.

This is the snacky stuff I got ready for B and me.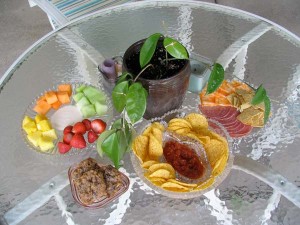 I knew it was too much food for two people and I ended up not putting everything out because B brought some stuff too. But it was fun putting the food together on these fancy crystal dishes that had belonged to my adoptive Mom.
I had a great afternoon with B just munching away and talking about where we're at in our lives and where we want to be. The bad thing about being free to do anything I want, is that I'm free to do anything I want. Too many options.
This morning, I took Luke to the park for a couple hours. It was kind of warm and muggy. There was no breeze, so no shying but also no cooling off. Again, we did a lot of trotting and cantering in the spots where deer flies seemed to congregate. Unfortunately, the nasty buggers either kept up with us or we just kept encountering a new batch. But it was nice in the woods, cooler and fewer bugs.
There was a spot I found where we could go down to the river. I thought we'd just walk on a sandy stretch but Luke gravitated right into the river. I've never taken him into water so I expected he'd be afraid of it, but I guess not.
The water got deep pretty fast so when it got up over Luke's knees, I thought I better turn around and save my saddle. After I turned Luke around, he started lifting one of his front legs and bringing it down and splashing the water, like a little kid playing. Luke seemed to enjoy this immensely, and it made me laugh. But I figured we'd better get out before he decided to lay down and completely cool off.
Later in the afternoon, I went to see the movie "Public Enemies" with Johnny Depp. The movie is well done, but it wouldn't matter anyway, it has Johnny Depp in it.
I wish I had more photos to make this more interesting. Photos of Luke splashing would have been really cool, but difficult to take while sitting in the saddle.
I need to take Luke to a different park so I have something new to take pictures of. I've been trying to figure out how to get to three different parks in the area but it's not like they give you an address you can put into your GPS to find the parking lot for horse trailers. And I'm worried that I'll miss my turn and I can't exactly do a U-turn with the horse trailer hooked up. So I need to do some more drives with Java so I can make sure I know exactly where to go, if there's any construction I'll have to pass through, and what kind of parking conditions there are. I just don't want to get into a situation with the trailer and Luke in it that I can't comfortably handle.
Tomorrow night, I'll be putting the horses in the barn. My neighbors blow off some pretty loud fireworks. The horses are okay with small, shotgun-like booms, but cannon-size booms they don't appreciate.