Where is That Darn Open Door?
I was going to shutdown my blog today. Spare anyone who reads this from watching me crash and burn. I'm feeling unfit for human consumption. 
I swore I wouldn't let myself act like a victim ever again, but lack of sleep has left me open to emotions and thoughts I didn't think I'd ever experience again.
I'm so tired of crying. I don't even know how it is humanly possible to shed this many tears. Is that why I'm always thirsty? 
One of my friends asked me how I was doing and I said I was trying to figure out how to tie a noose. She thought I was kidding and commented on my funny sense of humor. Okay. So I was kidding. My sense of humor is pretty warped.
I want to quit. I want to give up on everything because nothing seems to matter without H in my life. Is that stupid or what?! That's what I tell myself, is that it's stupid! But I really believe that if he doesn't see my worth, then I don't have any, if he doesn't love me, then no else ever will — except family because they're stuck with me. I have made this man a god. In my mind, I am nothing without him. Stupid!!!
I know I've accomplished things in my life. I know I am good at some things. I know that some people actually like me, that they believe lots of good things about me. But I just assume that's because they haven't lived with me. They don't know me like H does or they wouldn't like me either. Repeat it again. Stupid!
I hate that I've become a problem for H to resolve – a financial transaction to settle – and as quickly as possible, please. He's in a "me" place; while I'm in an "us" place. He's dividing things up — this is mine and this is hers; while I'm looking at things and remembering how we discussed it, picked it out, worked on it, and enjoyed it. 
Yesterday, I read an article online titled "Some Common Reasons Men Leave Relationships" by Brenda Shoshanna that said:

"Though there are many more factors contributing to men leaving relationships, a common theme appears through all of them. The men are not necessarily responding to the woman they are leaving, but to their own inner needs, conflicts and dreams. Often they experience the woman in their lives simply as a part of their own sense of self. It is not the woman herself who necessarily causes the man to leave, but the man's feelings about himself, his own inner fantasy and quest."
This might make me feel better except that it sounds like something someone would say to make you feel better.
I had lunch with my cousin A yesterday and we joked around about the quote from Helen Keller, 

"When one door of happiness closes, another opens; but often we look so long at the closed door that we do not see the one which has opened for us."
A and I concurred that at times we feel like we are desperately looking for that open door but we're in a locked room with no windows and we're groping around in the dark trying to find the darn light switch.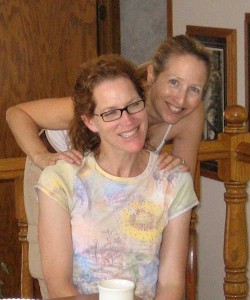 Cousin A and I in happier times in my kitchen
I want to quit trying to look. I want to quit writing, quit riding, quit doing anything that makes me "me" because I've decided "me" is not a good thing to be.
But the one thing about writing a blog, is you can't stop living or you have nothing to write about. So this blog is my lifeline that forces me to remain a part of this world and I dare not quit writing it now.
So I apologize for including you in my ugly little journey. You can always come back in a year and see what happened to me. 
I'm hoping there will still be a few moments of humor and insight. So I will leave you for now with a photo of my "happy shoes". They make me feel young at heart.