The Loft Writers 50 and Better Conference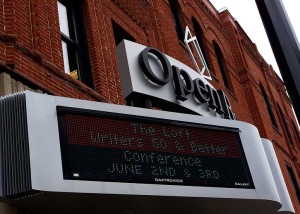 I know this is long, but if you are a writer or woman of a certain age, it is so worth reading (I can say that because I'm just the messenger, not the brains of the message).
I spent the weekend at a writing conference for writers over fifty at Open Book in Minneapolis. I signed up for the conference as soon as I saw the email announcement because of the big drawing factor – IT WAS FREE! Oh yeah, and there were some people presenting that I admire too.
The free part was made possible by a grant provided by the Minnesota State Arts Board. The grant existed because the people of Minnesota voted in 2008 to set aside money for the State's Arts and Cultural Heritage Fund. Yeh Minnesota!
There were people at the conference on up to eighty and maybe more. I think it was a great way to tell an often overlooked group of people that their voices matter. My voice matters.
I've been wanting to take a writing class or go to a conference or retreat for the last couple years but have been held back because of how expensive it is or because my need to get home and let out the dogs doesn't allow for classes after work, but free and on a weekend was a perfect combination for me (thanks go out to Steve for caring for the pooches).
Still, I almost backed out of the conference at the last minute because I wanted to get my herbs planted and some other yard work done. But I had to ask myself, "Maery, what is the area in your life where you feel the most regret and feel the most frustration? What are you not doing enough of that you are often feeling depressed and angry with yourself?"
And Maery responded, "WRITE!" Even more than just the act of writing, I crave the community and the connections that writing, when I'm truly serious about it, brings into my life.
So thankfully, I went ahead and attended the conference, which started out with a keynote address by Molly Peacock. I will briefly try to summarize the highlights ("ah ha" moments) of her talk.
Molly Peacock most recently wrote a book about the life of Mary Delany called "The Paper Garden". Mrs Delany began her artistic life's work at age 72 and continued until she was 82 and her eyesight made her intricate floral collages too difficult to do.
The message in this is that it is not too late. Okay, maybe it is if you are 73, but if you are anywhere younger than that…. just kidding.
The following are some of the messages Molly stated that hit home for me. These are not direct quotes from Molly but summaries of what I heard, perhaps mixed a bit with words she kicked off in my brain.
Friendship plays a huge role in creativity, especially later in life. We all want to have our work seen and acknowledged, and friends generally play a big role in that.
Life is made of moments.

There are moments in life when creativity is constrained, when everything is drained out of us by demands and environment.


There are moments of creativity that don't seem to add up to much. There are bits of sparkle and then loss of that spark.


There are moments of stillness, where we are more retrospective. In todays world, where only forward movement at the speed of light is valued, we can feel guilty or worried about taking these moments of stillness, but they are so important to our creativity. Childhood imagination comes from moments of stillness and boredom. Those moments of stillness are when switches are thrown, when discovery occurs, when new knowledge is gained.

There are moments of great change and awakening brought about by the accumulation of all of life's events and experiences, hurts and losses.




We lament about "If only I had known then what I know now, I would have done things differently and accomplished so much more." But Mary Delany could not have done what she did any earlier. Her discovery came from the accumulation of her life and the circumstance of being bed ridden and needing to keep herself entertained. Mary Delany has relieved us of our guilt of not having done what we think we should have done sooner.
Every project has the needle in the heart that drives us to do something.
People's lives go in stages and we're always trying to figure what we'll do at the next stage of our life. We are always trying to determine who we are at this stage. But who we are is always changing so the desire to be our 'true self' is elusive. What is true today may not be true tomorrow.
We need role models at all stages of our lives. [If you need ideas for role models, visit my friend Sue's Pinterest boards "Keeping It Real" and "Kick Ass Women".]
The challenge of late life creativity is to get over the fear of inviting something new into our life. It is getting past the feeling of overwhelm.

[Boy howdy, did this hit home.]

We cannot escape overwhelm. Think back to when you were first trying to learn how to read or do algebra – you were probably overwhelmed, and yet you made it through it, learning something you thought was impossible!
We need to be ambitious and engaged in what we are doing. This means getting past perfectionism and realizing that a goal is not a vision. When Mary Delany quit collaging fifteen artworks short of her goal of 1000 collages, she was still satisfied that she had accomplished her vision within the limitations of her human body.
Get past the feeling of being an amateur and that you can't do something because you are not a professional!
A sense of limitation can be delicious. Don't we all need boundaries? Enclosed energy is intense energy.
We need more opportunities to have these conversations with others who are in a similar place in their life. Let's keep the conversation going.
Tomorrow I will write about what I learned in a class about keeping a Writer's Journal.
P.S. The girl's wanted me to let you know how smart they are because they all made it into the coop completely on their own tonight for the first time. Go chicks!