I woke up and realized I was a double-D, not the bra size, I mean that I was feeling the effects of divorce and depression. 
I did the only thing a cowgirl can do in such a situation. I loaded my horse onto the trailer and went trail riding.
This whole trailering thing has given me so much freedom with my horse and has been a total lifesaver for me. I'm not sure what happens after I lose the truck and trailer, which is probably why there's a bit of desperation to my riding right now.
Luke and I took a different trail again. We rode through meadows.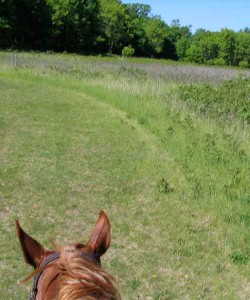 And we rode through woods.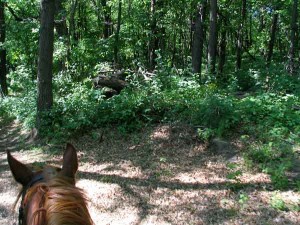 We rode by the Rum River.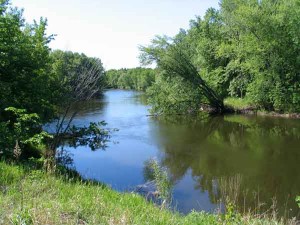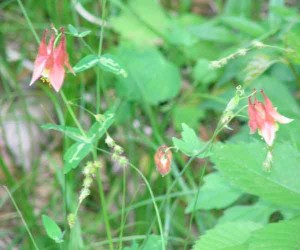 Luke gave the purple flowers the sideways, stink-eye. Not sure what that was about.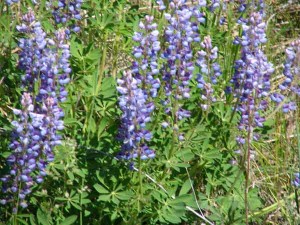 I was feeling adventurous and decided to follow a small path through the woods to see where it went.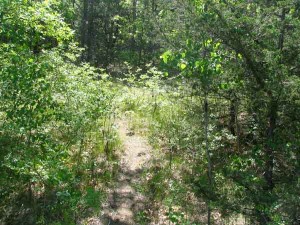 And found this swampy area that I'd never seen before.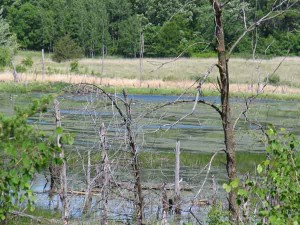 As I rode all over the park, I was thinking, "This is so fun! I can go anywhere on my horse! I love this!" 
Well, maybe I can't go anywhere on my horse, but we were exploring all over the place, and Luke was so cooperative. He has certainly surprised me. 
He didn't even poop in the trailer today! Which means he's getting more relaxed about riding in the trailer too.
After a couple hours of riding, we headed back.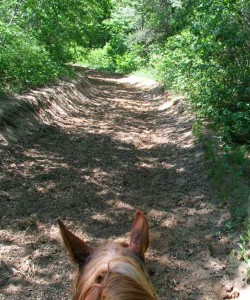 By the time we got to the trailer, I saw that four other trailers had arrived. For such a small park, it's funny how we never ran into any other horses.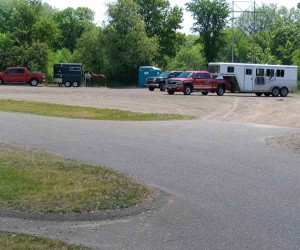 I took Luke back home, ate lunch, then took Java to the same park and walked around with her for 90 minutes. We saw a couple kayakers going down the river. 
Yes, you can do it all in the Rum River park! If only I could park a double-wide in the parking lot, set up a couple corrals, and live there!
It's been a nice weekend — too nice actually. Where is that rain they said we were supposed to get today?! It's pretty windy out and the dusty conditions are apparent. I think I'll go out and do my rain dance.
I hope you all had a good weekend too!