After the Freeze Gardening
There's little risk in becoming overly proud of one's garden because gardening by its very nature is humbling. It has a way of keeping you on your knees. –– Joanne Barwick
I didn't say all that much about my garden this year. I guess I was too busy being a Master Gardener… I'm still brown bag ripening the last of my tomatoes, have one butternut squash left, some very thin celery, and a bag of smallish potatoes.
But it's November now and gardening is done. Outside anyway. Several plants from my herb garden came inside.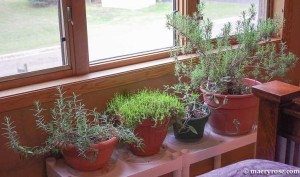 I don't have any windows facing south and only a few facing east to get morning sunlight. Many of my plants have taken up residence on the ledges of my bathtub where they can catch what little bit of sun is available. A couple tomato supports are now supporting fluorescent lights. Obviously, not taking any baths with the lights plugged in…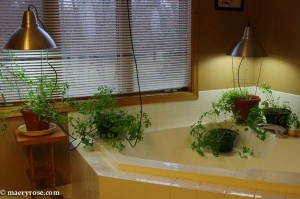 This was my last harvest from my salad table.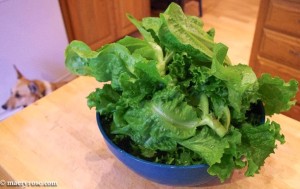 The salad table has been moved down into the furnace room and restarted. I've added a Sun System grow light with a 400 watt bulb in it. It doesn't throw off very much heat so I don't have to worry about venting the area like you do with some types of light. This photo was taken right before I thinned the seedlings down to one plant per cup.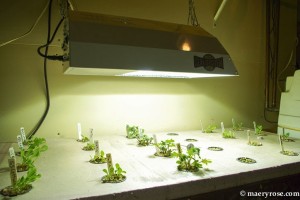 That sadly barren row is my spinach. The seeds are a couple years old so I knew they might not work. The basil is barely visible (the front two cups to the right of invisible spinach), but basil is very slow growing. Seeing anything at all makes me hopeful they will produce.
The decision to put the table in the furnace room was simple — the furnace room has a drain in case there's a leak or spill. The worms in my compost bins are probably not very happy about the intense light. Fortunately, most of the time they are covered with thick dark plastic, which must do a darn good job of shielding out the light or some of the worms wouldn't be resting on the surface of the dirt, unless perhaps they think they are vacationing in the Bahamas and catching some rays.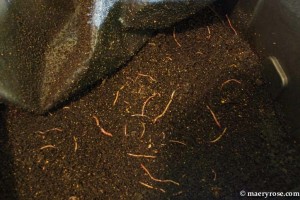 When I dig below the surface, you can see quite a nest of new worms. Sorry about the blur, didn't want to use the flash on the poor guys.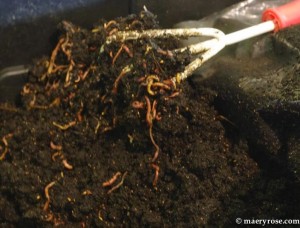 Next Spring, I'll be using quite a bit of this compost in the garden and thinning out the worm herd with a worm release. This is how the two bins are set up. The spout is for draining out the excess liquid (worm juice), which can be mixed with water and used for plant fertilizer.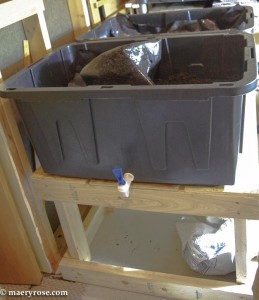 So, if you're not very interested in gardening, this has probably been pretty boring.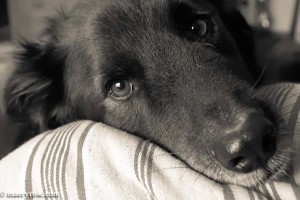 I'll try to be more interesting in my next post. For now, I'll leave you with a bit of a flowering sunset…