Saturday morning, I went to my friend Sue's, where she and other artists had set up their work for an art show. I wish I could show you photos of the cool stuff there but, alas, I sent my camera to Canon for repair right before I stopped at Sue's. You'll just have to check out her art blog to see some samples. She also recently painted her studio and that's pretty cool too.
I couldn't stay at the art show long (just long enough to buy some earrings), before I had to run to the stable bearing gifts of humus and flatbread. Okay, not gifts, but my portion of the potluck lunch we were having between the morning and afternoon clinic rides being taught by Mary Beth Williams.
I didn't ride until 1:00, right after lunch, so I didn't eat much. I was pretty nervous and didn't feel like eating anyway.
I haven't had a lesson for eight years, while the other riders are actively competing in dressage and eventing with horses actually bred for that sort of thing. Enter Maery, with her jeans, Wintek saddle, and quarter horse Tennessee Walker cross. Don't get the wrong idea. My fellow riders are not snobs and do not look down on me. It's probably more a me looking down on me issue.
If you're not interested in horse stuff, you might want to skip the next 4 paragraphs as it gets kind of long.
Anyway, I told Mary Beth I wasn't showing and had no plans to. I merely wanted to help Luke be more balanced and comfortable for his sake and mine. Mary Beth agreed with me that the Tennesee Walker was causing part of the problem. The Walker can add a nice lift and lightness to a trot, but can add extra beats you don't want to the canter and the trot can switch to gaitedness when switching gaits or when Luke gets unbalanced or nervous. I also said that I couldn't take up much contact with the reins as that would make Luke throw up his head, stiffen, and start gaiting.
I was hoping Mary Beth could explain to me what was going on and give me some exercises to fix it. What she did first was have me shorten my stirrups and work on staying farther forward in the saddle, while keeping my feet farther back. I ride the way I do as self protection from the pain in my knees, hips, back, and shoulders, but it turned out that I could do what Mary Beth asked without causing pain, at least for an hours ride anyway. She also had me shorten the reins so I felt like I was practically down to the bit. When I would ride past the mirror, I could see the position was not as extremely forward as it felt. And the thing is, the switch was magic.
It helped free up Luke's back and he looked and felt awesome! I didn't recognize my little oddball horse. Of course, we have tons of work to do. The Walker does make it hard to do a 3 beat canter so I'm just supposed to mainly work on setting up for the canter and only do a few steps of canter, then back to the trot, as the first few steps of the canter are okay. I was told the point was to build muscle memory of the right way to move and prepare him for additional canter work.
I learned so much in that one lesson, like turn, then straighten, turn, then straighten (all done very subtly). That helps with Luke leaning inside or overbending. And the same applies with leg yielding out. I was doing too much too fast. And we worked on getting a couple steps of faster trot to get his back legs going, then back into slower (not slow) trot. We even got some hesitation in his trot where it felt so light and cool.
Can you tell I'm really happy with my one lesson? Now if I can just pull off the same thing on my own.
I finished off my Saturday by going to an after art show gathering. There was food on the grill and four different groups played on a stage in the woods with the river flowing behind the musicians. And boy was the river flowing, fast and high, with all the rain we've been having. It was a wonderful way to end the day.
Sunday, I was in heavy camera withdrawal. I mean the above narrative would have been a whole lot more interesting with photos! Right? How am I supposed to go for 3 weeks or more without photos?!
So I bought a little Nikon Coolpix and took a few photos of Java, one of my favorite victims, I mean subjects.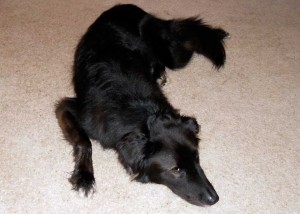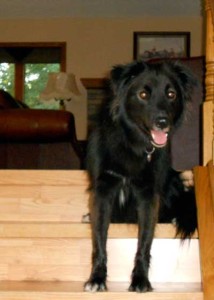 And this.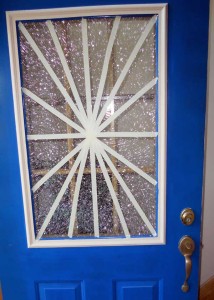 I went for a walk with Java and came home to find my front door's window shattered. It's double paned and the breakage is on the outside. There's a screen door outside this door. I don't get what did this. It's so spider webbed that there's no obvious start point for the breakage. Temperature's in the 90's? Java jumping on the door inside weakened it and there was spontaneous breakage?
I don't know. And I don't like "I don't know" with stuff like this. So tape is protecting the glass until I get someone to put in a new door (pronto) without such a big window (or maybe no window).
A security system is soon to come.