Last night, Lynn and I went to the 2009-2010 Loft Mentor Series Reading. I won a spot in the Loft Mentor program in 2000, the same year I got married. It was a wonderful experience but they've improved the format of the program by leaps and bounds since then. You get to work with six nationally known writers, two fiction, two nonfiction, and two poets, who give you writing assignments to work on and spend one-on-one time with you to develop your work. The participants then do readings and have to answer audience questions towards the end of the program.
Last night, participants Anika Fajardo (nonfiction) and Karlyn Colemand (fiction) read from their work. They were both excellent. One of the fiction mentors, Shannon Olson (far right), read from her books "Welcome to My Planet, Where English is Sometimes Spoken" and "Children of God Go Bowling". Shannon's books are very amusing and she's even funnier in person.
I've wasted so much time with my writing and now it feels like it's too late. And I'm not sure it matters to me enough anymore. It's difficult to have a full time job, try to write a book in your spare time, and have a relationship too. And I guess I'd rather have a relationship than write a book. It's the choice I made ten years ago. It's sad that I ended up with neither the relationship, nor the book. I don't know if I have enough drive anymore for any of it.
This morning, Java and I went skijoring and once again, there was no one at the park. We started with the loop that we stopped short of yesterday then did part of the loop we'd done before.
Java started out so good! She was running all out, staying straight, and not stopping to sniff at anything. I was having a blast racing along behind her. I can imagine how much fun it must be to be behind a team of sled dogs, although I like the aspect of skiing behind Java rather than just being pulled. And I'm getting much better at the skiing.
But as she tires, Java gets more distracted and I don't want to push her to the point where it's not any fun for her anymore. I kind of thought she would want to keep going and going but she does wear out. I guess she needs to condition herself too and will be able to go longer and farther as she builds up muscle and endurance.
There were two more people with a dog getting ready to hit the trail when Java and I were heading back to the car. I had to snowplow to keep Java from running to the other dog but then Java stopped and stood at her "line out" position. Yeah!
Java took a nap when we got home. She's snuggling with her little rubber chicken.
After lunch, Java and I went and picked up 10 bags of shavings.
I had hoped to load a couple bags at a time into the wheelbarrow and wheel them into the barn, but the tire was flat. The tires on everything I use to haul stuff with are flat. I keep fixing them. And they keep going flat. Frustrating.
So I hauled the bags by hand as the horses supervised.
Mission accomplished.
While I worked, Java kept herself busy too.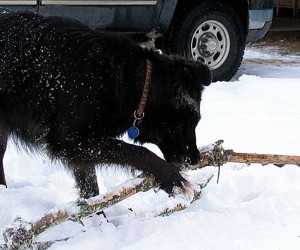 I used to have a nice pile of branches by the shed. Java has successfully managed to redistribute them throughout the yard.