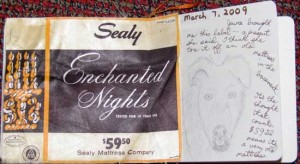 I was trying to get the kitchen painted this morning, but Java was not cooperating. Her whining was getting on my nerves so I finished taping around the woodwork in the kitchen and decided to take a walk break (hopefully wear Java out) before I started in on the painting.
As I drove farther into the Rum River park, I discovered that the road I normally take wasn't exactly plowed and the snow and water had frozen into some nasty ruts and ice. Not such a big deal if you are in a truck, but I was a little worried that I was going to get stuck in my Mini Cooper.
Java has her own little sweet pad in the back
It was a rough ride but, thanks to all those hard-earned, winter driving skills, we made it. The next challenge was taking a walk without falling on my butt. There wasn't enough snow left for snowshoeing, but I sure could have used the grip of the teeth that are on the bottom of my snowshoes.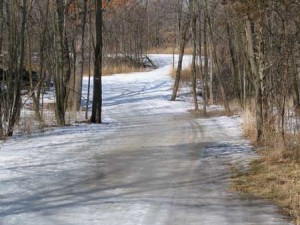 Dogs have to be on a leash in the park and I was worried Java was going to yank me off my feet, but she was a very good girl. When I had to carefully maneuver over an icy patch, I told Java to "heel" and she waited and walked by my side.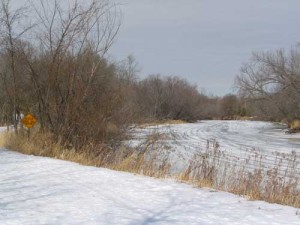 Rum River with lots of snowmobile tracks
Java and I heard a hawk and a very, very loud owl, but we didn't see them. I wish I would have had a recorder with me to capture all the birds sounds.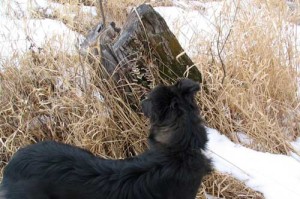 Java listening to the owl
 After our walk, I had to finesse the Mini back out of the park and head home to paint the kitchen.
Painting above the kitchen cupboards presented another bodily preservation challenge — not falling off the ladder.