When life has got me feeling dead,
What makes me feel better is homemade bread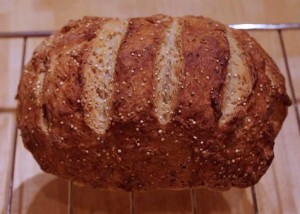 Cozy, cutish slippers are also good
Java would wear a pair if she could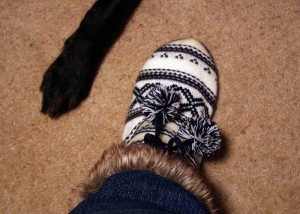 I've been quite busy lately trying to figure out how to lower my financial stress. I've been an ultra-mega cranky pants looking at bills. This stressed out, raving b#@ch feeling is not pleasant and it has to stop.
This month of December, I'll be writing about my attempts to cut expenses and still radically enjoy life. After all, it is a time of miracles…
Here's my first money saving tip: Bake! Whatever standard food fare that you can make yourself — bread, cookies, pizza dough — mix up that dough and enjoy the results. It's not as time consuming as you might think. Okay, waiting for dough to rise is very time consuming, but at least you can do whatever else you need to do while the dough is doing its thing.
When you make baked goods yourself, you have some control over what goes in them. You won't be eating preservatives and other hidden ingredients. And you can strive to make your food as healthy as possible. And I love the variety! I keep trying a different bread recipe every week.
I use the recipes out of the book "Healthy Bread in Five Minutes a Day", which is a very misleading title as it takes hours. But it is a little easier than the way my Mom used to make bread and much better than plain old white loaves. Oh yeah, and I bought the book used, another money saving tip.
The loaf in the photo above is made with Quinoa, which gives it a great texture and taste, not to mention how high in protein, calcium, and fiber it is. Everything tastes better when it's fresh and you've got the feeling of pride of having made it yourself.
Okay, enough of me trying to sell you on baking. I don't expect that I'll have any earth shattering thrifty revelations for you. But hopefully making frugality into a feat of exploration, research, and adventure will be fun and put me into a better mood.
In that same vane, this holiday time of year is an especially lonely time for me. I feel the separation from my family and the lack of family traditions more than ever. So December is also a month that I'm creating my own little tradition of counting down to Christmas by taking back all the pieces of me and owning them in some way — I haven't quite figured that part out yet, and I may peter out, and you may be scratching your heads by now. I know I am.
But what I mean is that in my loneliness, I feel I'm in this situation because of who I am and who I'm not. And I get very down on myself.
So I'm taking those words, like antisocial, by the horns and planning to whip it's ass by putting a positive spin on it. Here's the real meaning: I'm an introvert. I love people and I look forward to getting together, but I like to follow that with some quiet time too to refresh my batteries.
And I'm going to take words like, writer, and believe and express and own that word. Did I mention I have a writing plan and schedule that I'm working on too?
Now that sounds like an awful lot of doing at an already hectic, busy time of year, but that's another practice for me. To keep this simple. Don't overcomplicate it or try to make it perfect.
This is a great time of year to reflect, to be and to bless others with kindness. I hope I can make it so.
Life is practice. More and more practice.