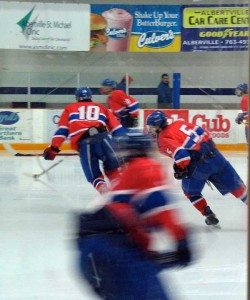 I just got home from a high school hockey game I attended with people from work. A coworker's son was playing and our department decided to go check it out. Mainly, I went because they were going out to eat before the game. Being "single", I don't get to go out for an actual full-fledged dinner anymore so this was a REALLY big deal for me.
We went to Champps, which wouldn't have been my first choice, but the Newcastle Brown Ale and Greek Chicken Wrap were pretty darn good.
The hockey game was fun too. The team we were cheering for was down 4 to 0 by the end of the second period, but they came back with three goals in the 3rd period. Unfortunately, that meant they still lost but it was pretty exciting for awhile there.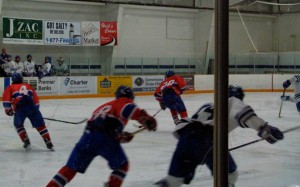 I like watching hockey. I don't understand all the penalties but I understand the skating and passing and what's a well executed move down the ice and set up to score, and what's just wildly hitting the puck and hoping for the best. Maybe it's because I used to love to skate, but I really get into the speed, skill, and snap decisions that need to be made. I also enjoy a good body check but I'm glad they aren't my kid. I wouldn't enjoy it so much then.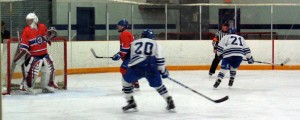 Work has been stressful lately, and not just for me. Others are starting to worry about their jobs too. There seems to be some scrambling to establish turf and irritability is rising. I'm not happy that other people are feeling out of sorts too but it does help validate how I've been feeling lately and that I'm not just letting my fear and imagination run away with me.
It was nice to go out as a group. I miss the way we used to work more as a team. There's a lot of wildly hitting the puck going on right now rather than looking for someone who's open and who might actually be the best person to hit the mark.
It does sound like business is picking up though, so there may be better times ahead. I sure hope so.