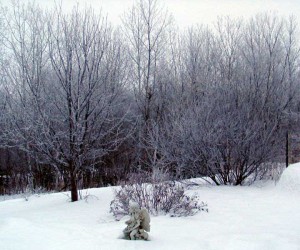 It was a frosty fairy tale morning. So pretty.
Good thing that something is pretty out there because my gas bill sure wasn't. Doubled!!! I think I had a gas leak on the gas line going to the outdoor grill that probably took me awhile to detect and then another while to find the valve to shut it off inside the house so I'm hoping that, and the extremely cold temperatures, were an anomaly and the next gas bill will be better. But just in case, I've turned the heat down even lower. More layers…
I've also been trying to find health insurance for my son. After he finished college, he dropped off our health insurance and doesn't get coverage where he works. He says he doesn't need anything, that he'll just go to the free clinics, but he is a person who TRULY needs dental insurance. And with the area he lives in and the hazards of riding a bike on busy city streets, I think medical would be a good idea. Once a mother, always a mother.
So let me see, a cut in income, a rise in utilities, health insurance for my son and soon I'll be losing my health insurance too and will have to switch to covering myself, and I'm also looking for auto insurance. And I've been looking at houses for sale to see what's out there in a price range based on what I can afford with my job, without a job, and with a job making half as much as I do now. None of it is pretty.
My week is spent worrying and battling stress-related muscle spasms that make me look like I'm having seizures and that completely exhaust me by the end of the day, not to mention just how embarrassing and painful that whole thing is.
On weekdays, I am counting the hours until it's the weekend so I can go walking or skiing, since those are the things that bring me enjoyment and peace and give me a welcome break from my muscle twitching.