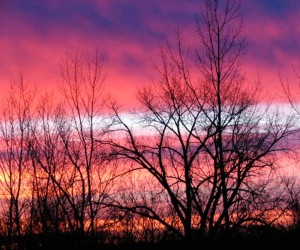 I caught this beautiful sunrise yesterday morning.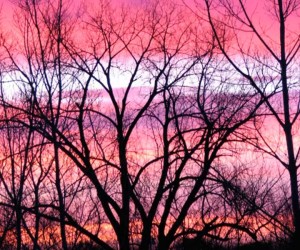 There should be a better description than "beautiful". None of the adjectives cut it – gorgeous, awesome, spectacular.
Perhaps I could say that the purplish shades, highlighted in orange and streaming across the sky, remind me of a sky-sized canvas, that someone has brushed splashes of bright watercolor across. No. Such a cliche.
How about that it was like the second day of an especially nasty bruise? No, no. That doesn't sound very lovely.
How about that it was like blueberries and orange juice spilled across the counter?
No wonder people say a picture is worth a thousand words…
Speaking of a thousand words, I need to get back to my story. I'm at 16,157 words so far.