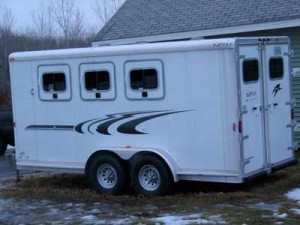 I've been dancing around this horse trailer driving thing for years. But I swear, this is going to be the year that I become an expert at hitching, backing, and all around maneuvering this monster.
I actually have driven a two-horse, straight load by myself before. It took numerous repetitions of backing-up to the hitch, getting out of the truck, looking, pulling forward, backing up, looking, forward, backing up, looking – you get the idea. 
But I've never been able to back up the trailer once it's hitched. Instead, I always make sure I pull into a space that I can pull out of forward — no backing. But that does limit where you dare to venture.
And now, I have a three-horse, slant load trailer that is a lot bigger, in my opinion, than a two-horse. I had this crazy idea that I would join this trail riding organization and load up my horse and maybe a friend's horse (I'm still working on finding a friend), plus some hay and supplies and go on these weekend horse camping trips or even a week long trip to someplace like the Black Hills.
Okay. So I'm downsizing my trail riding goals to being able to hitch and drive the trailer to a park about seven miles from my home, which has about three miles of trails, and going trail riding by myself. I'm hoping to meet someone there that will be my trail buddy.
So if I can learn how to hitch the trailer, back it up, I just have the final hurdle to jump — our driveway — which is narrow and doesn't have much room at the mouth to swing onto the street, or vice versa, to swing back into the driveway. If I don't do it right, the trailer wheels will go off of the hardtop and I'm in danger of tipping the trailer into the creek. No problem…