Part 2 of Oregon Trip: Columbia River Scenic Drive and Timberline Lodge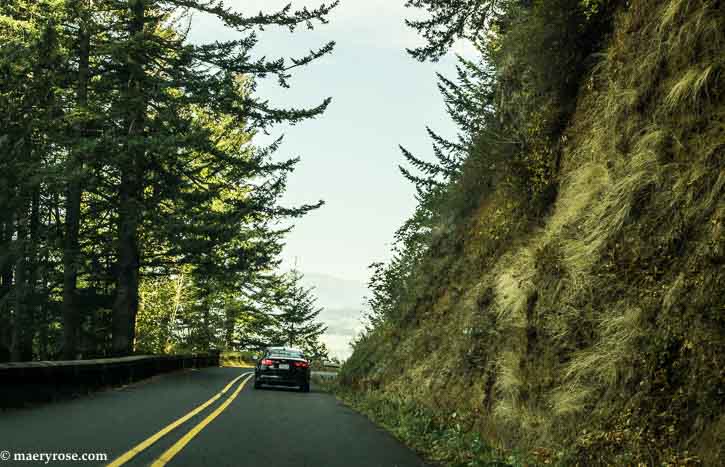 At the end of September, Steve and I took an Amtrak train from St Cloud, Minnesota to Portland, Oregon for a destination wedding. The following posts are about our experiences on the train and in Oregon, which I wrote down in my travel journal. You can read Part 1 here.
Thursday, October 1, 2015
After we got off the train, we took a cab to get to the car rental place. We took the "green" cab – a Tesla, which runs on battery. It was pretty space agish, with a huge computer screen sticking out from the dashboard that hooks up to internet and a bunch of other widgets. I thought the car was pretty cool until I heard the price started at $70,000. For that amount of money, the vehicle better haul lumber and be able to pull a trailer. A newer model of the Tesla has even more gadgetry to protect you from biohazard, air pollution, and a drone invasion. It costs $132,000!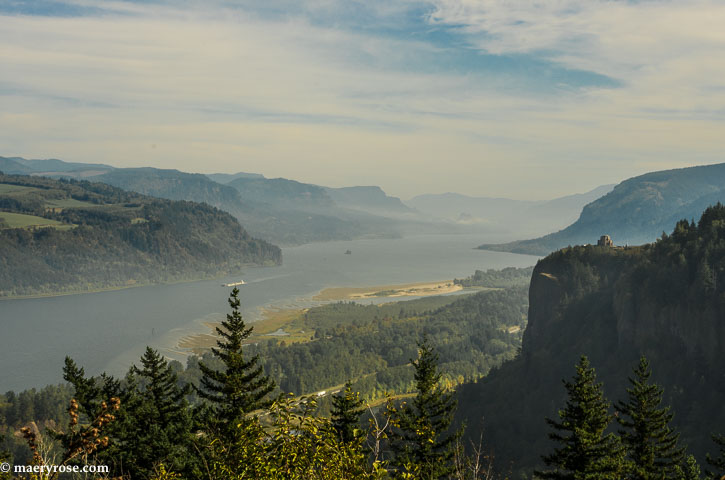 Anyway, we picked up our rental car and took the historic, scenic Columbia River drive towards Mt Hood. We stopped and took one easy hike to Bridal Veil falls. I was experimenting with camera settings, doing everything manually. I should know better, but that's how you learn. Right?
We were going to do a more challenging hike to a triple waterfall – a "must see" near Portland. But there were way too many people at that tourist attraction. I didn't want to fight my way to a decent spot to look and snap a photo of the waterfall before I had to politely move aside to let someone else take a look. I like to take my time to ponder the power and hear the roar of such wonders of nature. And that is best done away from a crowd.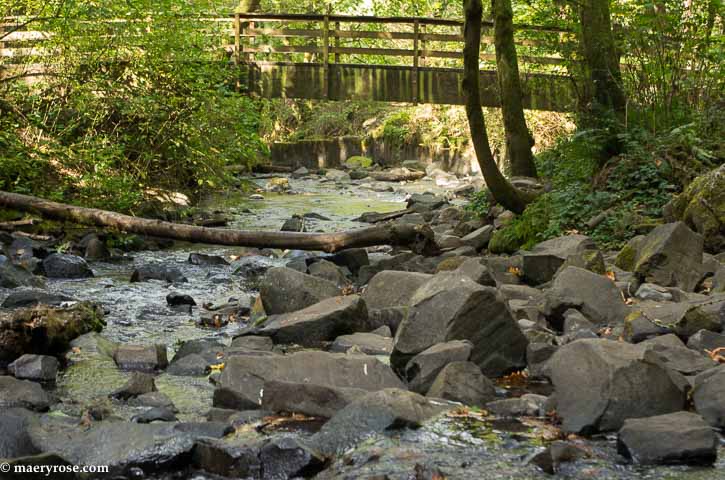 We stopped at a couple lookouts over the Columbia river, including the Vista house.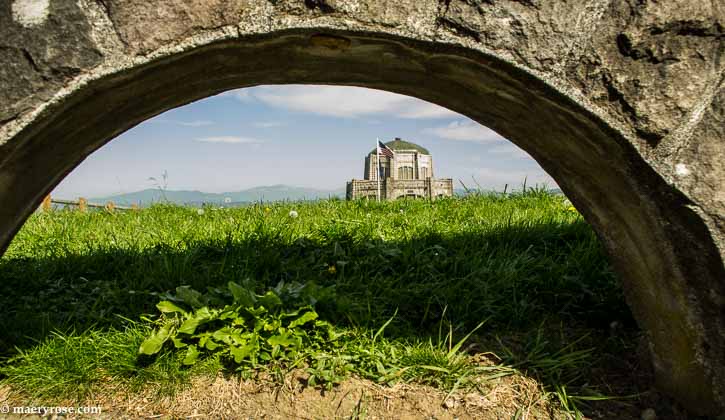 The Amtrak train had traveled along the Columbia River for awhile and the view from the train had been more awe striking than looking down on it from so high up on a hazy day. But it was still quite a site.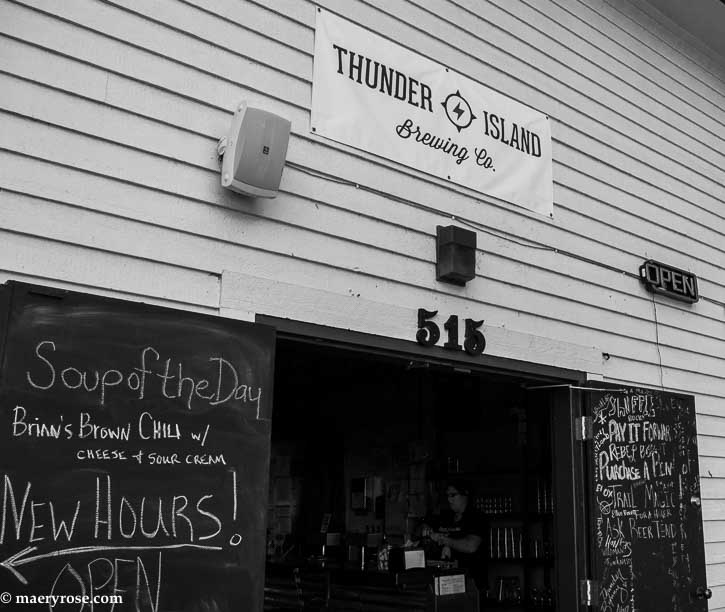 When we got hungry for lunch, we stopped at a brewery near the Cascade Locks called Thunder Island.  I had a mighty fine pear cider while Steve had a cream ale. We sat outside to enjoy our lunch and saw a National Geographic ship go by with a load of kayaks on the deck. It might have been an excursion they were running, but I wondered if any famous photographers were onboard.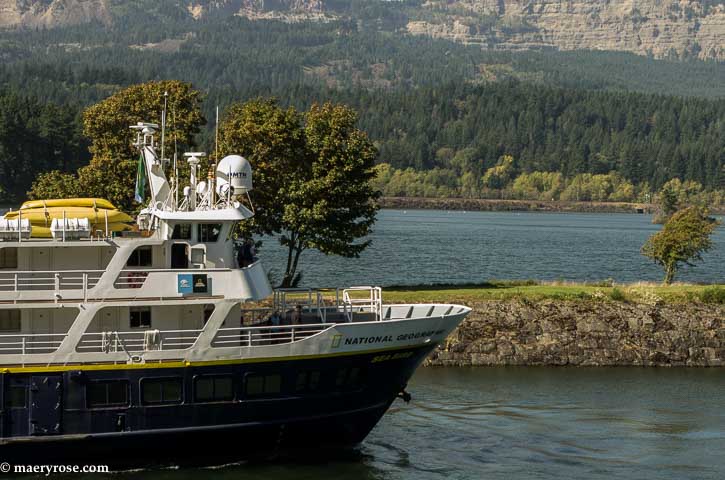 We decided we'd done enough stopping at scenic lookouts and just wanted to get to Timberline Lodge, which is located in the Mt Hood National Forest and was where we were spending the night.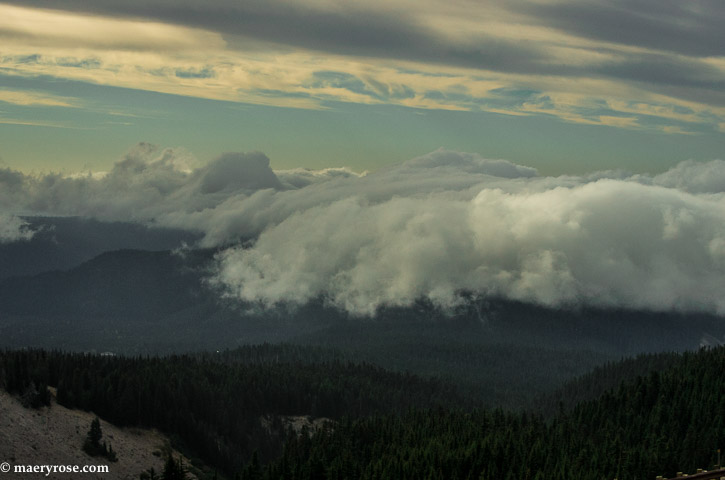 The lodge was built as a federal arts project. President Roosevelt visited there in 1937 and dedicated it as a monument to the workmanship of the Works Project Administration. Master Craftsman and Master Artists worked with unskilled laborers and apprentices to build the lodge. There's a short video about the lodge here.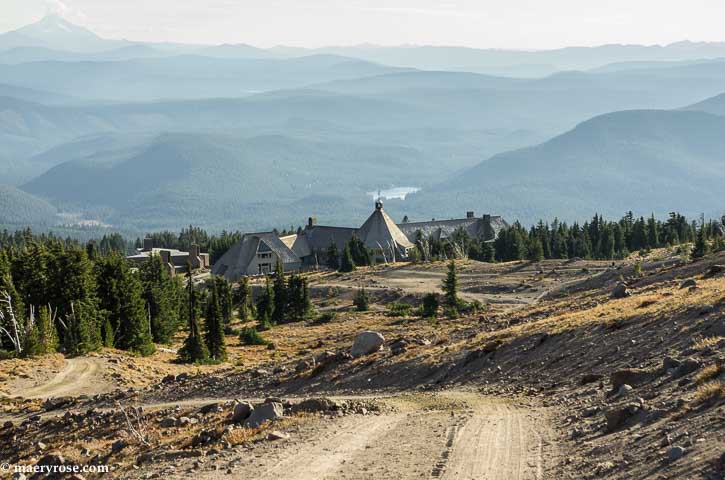 The movie "The Shining" used aerial shots of Timberline as part of its opening scene and some exterior shots to create the fictional Overlook Hotel. You can see the video about that here. None of the actual movie was filmed at the lodge, yet we tried to capture what we could remember of the movie and the hallway scenes.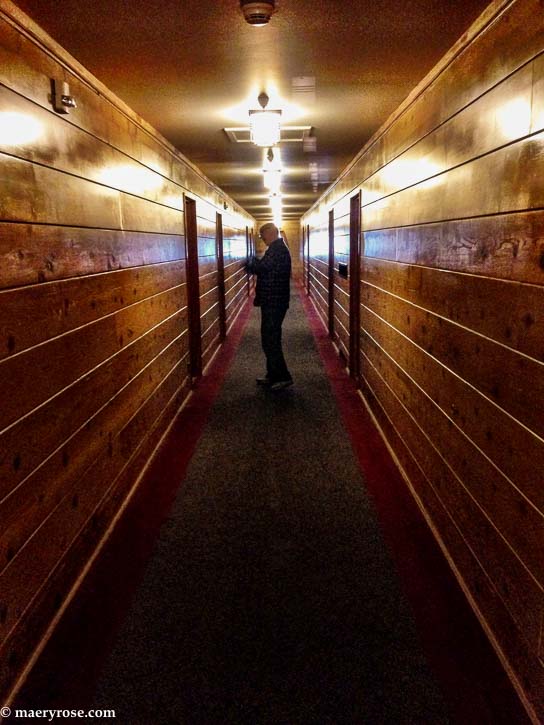 After we dropped our stuff off in our room, we bundled up to go walking on the paths around the lodge. It was pretty windy and chilly in the mountains. Steve wanted to hike to a point above the tree line. He got pretty excited about that conquest.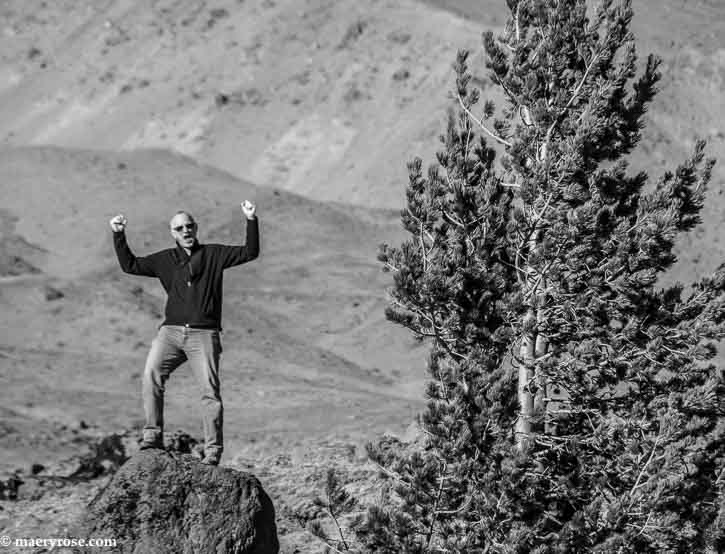 I was more interested in having my picture taken by The Pacific Crest Trail sign.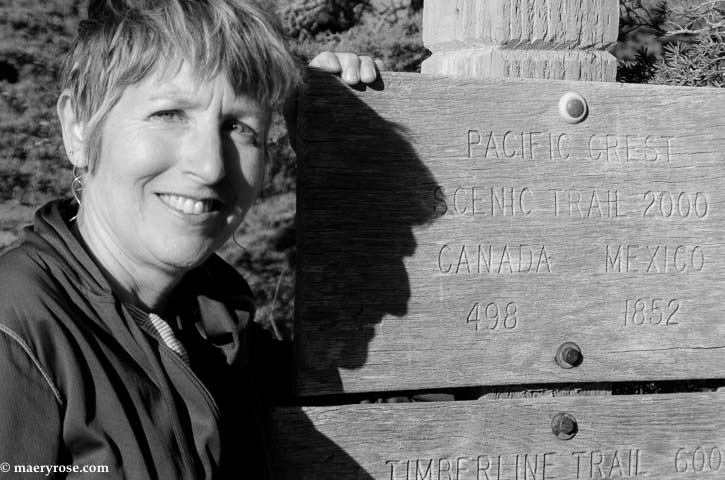 We were told the Mt Hood glacier was the smallest it's ever been due to the heat and draught situation. But we saw a couple guys with skis walking down from the mountain. There was snow on the other side of the mountain that skiers went to.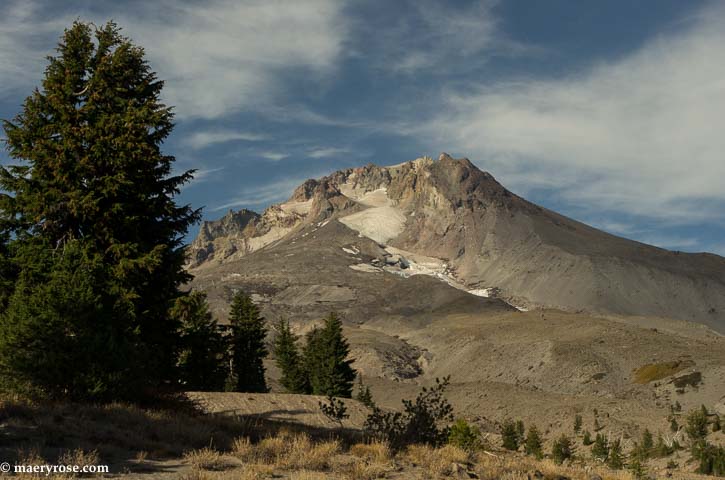 We concluded the day with a fantastic meal and a cold beer at the lodge's Ram's Head bar.