Part 1 of Oregon Trip: Taking Amtrak Train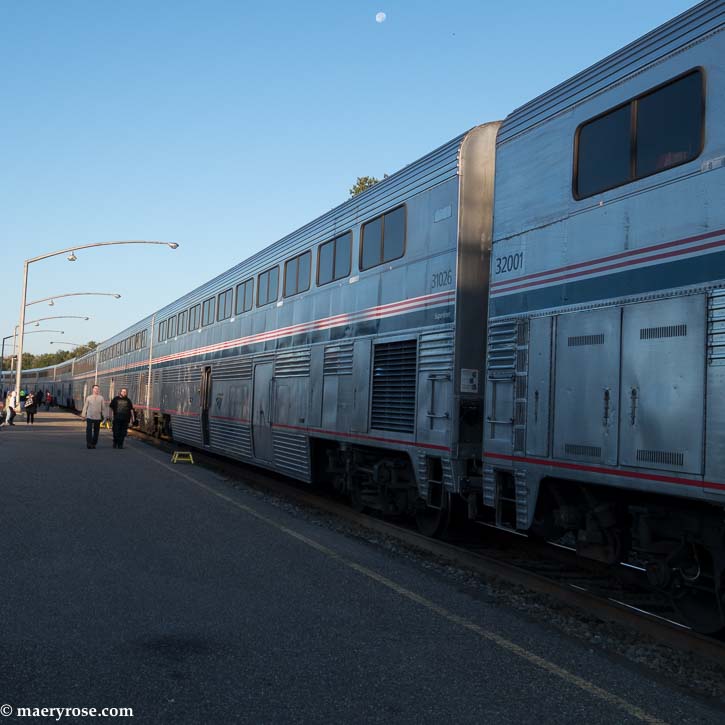 At the end of September, Steve and I took an Amtrak train from St Cloud, Minnesota to Portland, Oregon for a destination wedding. The following posts are about our experiences on the train and in Oregon, which I wrote down in my travel journal, a journal I don't get to use nearly often enough.
Wednesday, September 30, 2015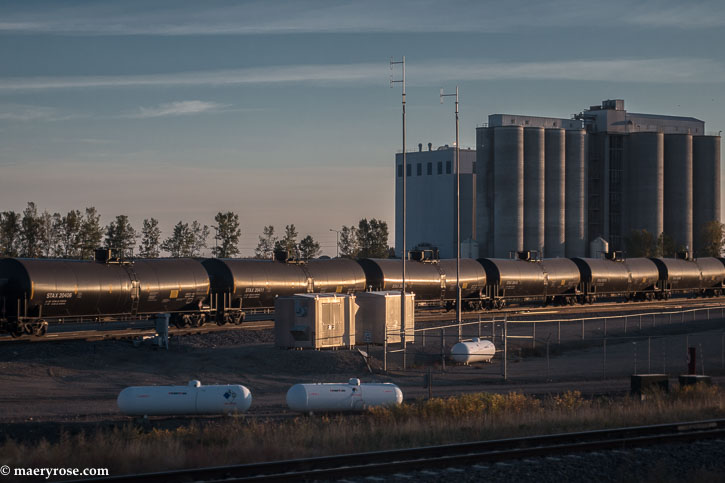 We just passed by a laundromat called Clean Jeans. There are RVs and trailers scattered around, creating a movable town — a North Dakota oil town.
Steve and I are on the Amtrak, heading slowly towards Portland. North Dakota's landscape is pretty unimaginative. This part of the earth must have been created on one of God's off days. But I can't blame him for the oil drills I see in the fields. We the people can take credit for that. It's like we've added a bit of animation to the flatness; the oil wells remind me of those silly toy birds that bob up and down, their beaks appearing to drink the water set before them.
The color of North Dakota is faded yellow. We are passing by fields of tall brittle grass, with a sudden vertical tree occasionally stabbed into the ground.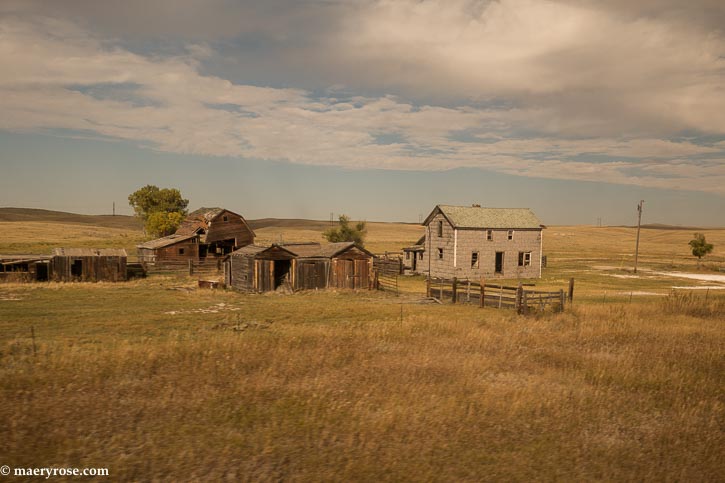 Once in awhile we pass by a wetland with a variety of waterfowl spotting the surface. Steve points and calls out their names to me, but I can't spell them without help from Google, and there is no wifi on the train.
Steve's parents drove us to the Amtrak train station in St. Cloud. His dad is like me — afraid of being late. We arrived at the station at 10:30 PM. The train didn't leave until 12:30.
So we went to Perkins. Steve's parents ordered real coffee to stay awake, while Steve and I ordered decaf in hopes of going to sleep once we were on the train. Everyone ordered cherry pie except me. My stomach was in its usual pre-trip departure nervous state. The pie looked like someone had dumped cold Libby's cherry pie filling into a crust and served it, so I didn't feel too bad about missing out.
To add to the Perkins ambience, a teenage boy was running a floor cleaner so we had to shout over the noise. Two men were laying down in a booth sleeping. A police woman arrived to remove them as we were leaving.
The St. Cloud Amtrak station was built in the 1920's, and it didn't look like it'd been touched since then. It smelled like Lysol, which made me wonder what smell was being covered up.
When we got on the train, our roomette was already setup with the bunkbeds ready for us to crawl under the covers to sleep. When the beds are down for sleeping, there is only about a foot of space between the bed and the sliding door to maneuver around. It's much more comfortable when the bottom bunk is converted into two chairs.
I slept in the bottom bunk. The train motion was soothing, like being rocked in a cradle. As a kid, I always wanted to sleep in the top bunk at my aunt and uncles' cabin. As an adult, height is not as appealing. The top bunk (I heard) was not as comfy. It had a net you secured on the outside to stop you from falling out of bed when the train rocked a bit too drastically sideways. It saved Steve a couple times.
You eat a lot on Amtrak. You have about four choices for each meal, plus soft beverage choices and desert for lunch and dinner. I had  french toast, scrambled eggs and potatoes for breakfast the first morning. The french toast was very good but the potatoes tasted like cotton with a little grease. I didn't eat them.
The hike to the dining car was quite an experience. The train divides in Spokane, Washington, so the cars are arranged to simplify that separation. All the cars heading to Seattle are upfront. The Seattle sleeper car is right next to the diner car (which also goes to Seattle). The Portland sleeper car is the train's last car, which means we have five cars to walk through to get to the diner.
When the track is good and we aren't dealing with freight train traffic, the train goes about 80 mph (Steve clocked it with his GPS). There are a lot of bumps and rocking motion at that speed, plus the scissoring floor you walk through between cars. There are passenger seats you can use to catch your balance, but you feel a bit weird about that when someone is sleeping there, with their head on the armrest or feet hanging into the isle. Plus, a lot of train passengers are older. Some walk with canes. Fortunately, the car attendant in our car brings people their meals if the walk is too difficult. The stewards are awesome!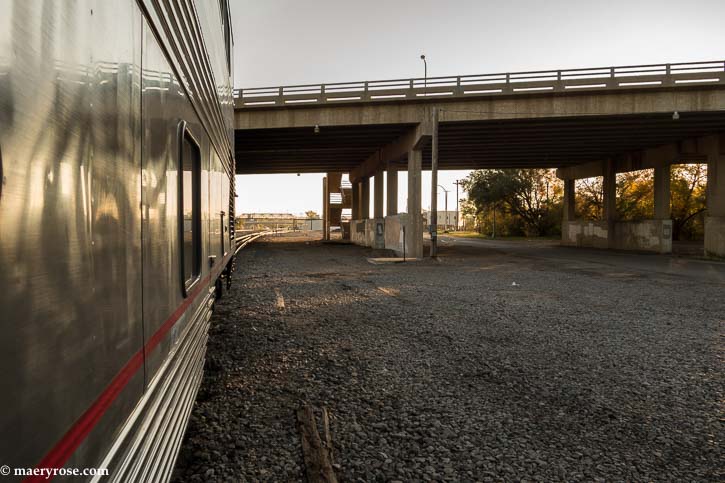 When you have your meals, if there is just one or two of you, you are seated on one side of the dining table and another person or couple is seated on the other side of the table. You meet some interesting people that way. Most of the people we sat with used the train rather than planes or cars for vacation travel. One couple told us about taking the train from Chicago to Albuquerque. Then taking an excursion train (not Amtrak) to the Grand Canyon. They described having the train chased by bandits on horseback. Maybe a future trip for Steve and I, only I want to be one of the bandits…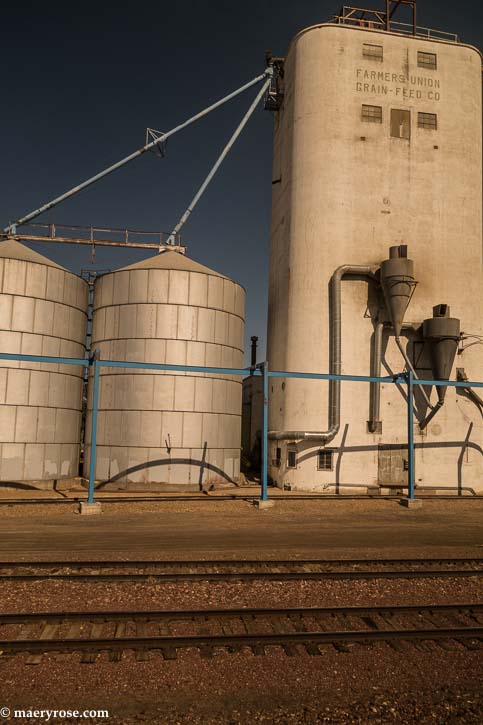 Amtrak is experimenting with having spots in train cars for bicycles to attract more long distance bike tour riders. Normally you have to tear your bike down, box it, and check it with the baggage. There are only a few Amtrak routes testing the bike thing out now, but if it's successful, it should keep spreading. If we go back to Oregon, I'd like to have my bike with me.
What was scary about riding the train was being disconnected from wifi. And what is perfect about riding the train is being disconnected from wifi.
Without the distraction of the internet, television and all those "To Do's" calling to me, I am free to read the book I brought, write, and just stare out the window at the scenery. I haven't been this relaxed for a long time.