A Queen Bee Can Sting Repeatedly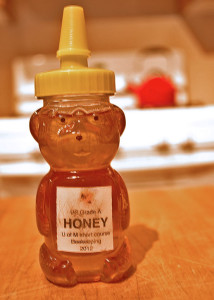 "A bee colony is like an organism, and each bee is one of its cells."
"You need to be calm, or at least pretend to be calm, to keep the bees calm."
"The queen mates with ten to twenty males in an hour. All the males die."
"Nude beekeeping is not a good idea."
"If you brush [with a bee brush] downward on the bees to get them off the frame, they get really mad. Bees have no sense of humor. But if you brush upwards, so they kind of flick off, they think they're at Valley Fair and the bees are okay with that."
These are just a few pearls of wisdom I gained at my beekeeping class last weekend. I was so excited during the bee lecture — an adrenaline rush really. I was on a bee biology, environmental care, and science talk high, I could barely contain myself!
I've already checked with my city and found out they have no ordinance against beekeeping. They also have no guidelines, which could be good or bad. I plan on following the Minneapolis guidelines to err on the side of caution. This means I need to go get permission from my neighbors within a hundred yards.
I have so much more to share about bees, the awesome program the U of M has going, the incredible instructors, and so many other things occurring in the whole nature, gardening area… just not right now.
I think I'm coming down with a cold and my brain has already hit the sack. I'm going to heat up some water with lemon juice and add some honey, drink that down, and go join my brain in bed.
I hope you can handle the suspense.