I do need to take more photos of Luke lest you think I've forgotten him or something. There certainly hasn't been much trail riding but the weather is starting to get better so perhaps September will be the month for that. The bugs are awful bad right now though. I've been trying out fly leg wraps and a fly sheet this year for the first time ever. Nasty buggers!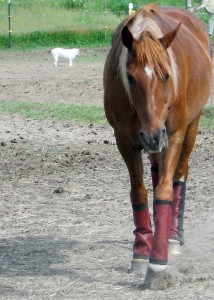 I started Luke on a mixture of glucosamine, MSM, and such mumbo jumbo a couple weeks ago as he's felt so stiff this summer. Not off or anything but just not as loose and free moving as he had been. The supplement really does seem to be helping him and riding has been more pleasant as a result.
Last weekend, a friend and I took Java and Latte to the Rum River for a walk. I wore my water-resistant hiking shoes as the river had been pretty darn flooded last time I was there. Any excuse to put these babies back on.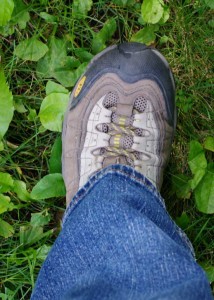 See the arrows pointing out where the walking path disappears and reappears? That's how the river was a couple weeks ago.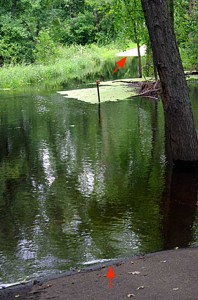 And this was how the fishing dock looked. The girls and I had to take lots of uphill detours.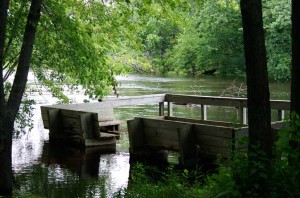 But it was not so bad on this walk. Just some silt left behind.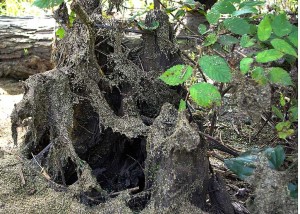 Plenty of cheery flowers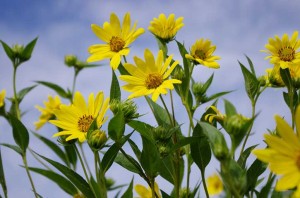 And a picture of me and the girls.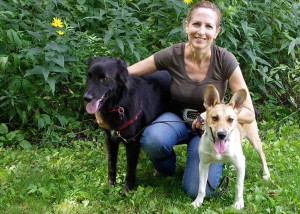 I'm trying to get more photos of me amongst all the "place" photos. So someday I can remember what I was like way back when. Gotta love the big sweat mark on the front of my shirt…
On Sunday, I read that the Twin Cities Photography Group was going to Hot Sams, which is a treasure trove of old cars, antiques, and cool stuff to buy, take photographs of and pose people with if you happen to bring models along. My nieces would love posing for photos in this place!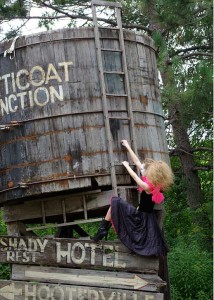 I'll say more about that field trip and show more photos in a couple days so this doesn't get too long, but here's are a few samples:
Smiley Flower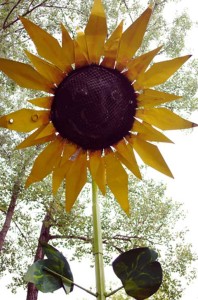 Flowers in the rust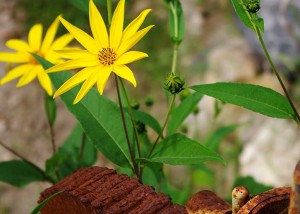 Giant Guitar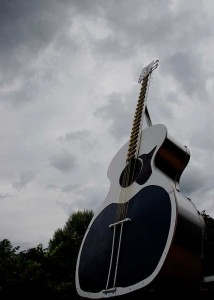 Truck Rust