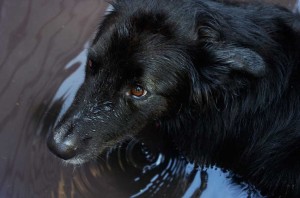 When you find a place in Nature where the mind and heart find rest, then you have discovered a sanctuary for your soul. — "Eternal Echoes" by John O'Donohue
Family members from Arizona and California can't figure out how I can stand Minnesota winters. I answer that you can always put on enough layers to stay warm.
But this weather? Even if I went naked and shaved my head, I wouldn't be cool enough. The air is so damp that all that humid-wetness, combined with sweat and lack of a breeze, is unbearable to me. When I had a pool, I could jump in and cool off and go back to work or play.
Now, there is no relief except staying inside somewhere air conditioned. I know, I should be thankful I have air conditioning and I am thankful. But staying inside makes me cranky and I think I sometimes turn into a werewolf. I just want to crawl back in bed and stay there until things cool down.
Even the dogs are losing their tempers.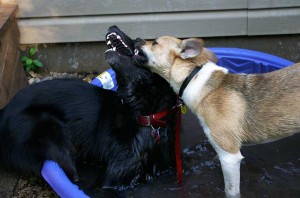 For those of you wondering why I'm not off enjoying one of Minnesota's 10,000 lakes — it's because only about 5 of them are good for swimming (mainly because of fertilizer runoff and human waste – I know, lovely). Cleaner lakes are about a 3 hour drive away.
Okay, so I sound a bit negative. I know some of you are toughing it out and bicycling and outdoorsing it despite the weather. Good for you. I'm a hot weather wimp.
To think that last week I was swimming in the ocean…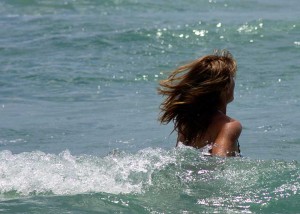 Okay, so that's not me, but I was there taking the photos… The weather was absolutely amazing in California while I was there — 80 degree temps accompanied by an ocean-cooled breeze… Luscious!
Friday, the day before my nephew's wedding, we, the non-wedding party members, went to the beach for an afternoon of swimming, volleyball, football, eating, and sand sculpturing.
The seagulls and squirrels tried to join us. The seagulls were very confident about making off with something as they right away moved into a "V" (victory) formation.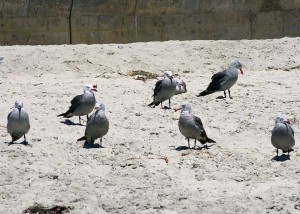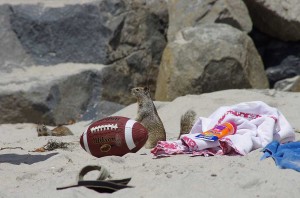 The pelicans flew overhead, looking very prehistoric and majestic.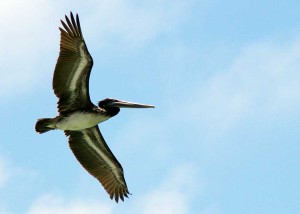 We even looked on with amazement while dolphins swam past (whales went by too but I missed that).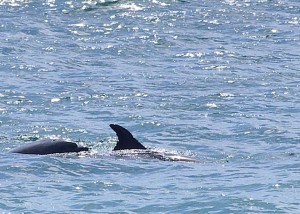 The water was a bit nippy.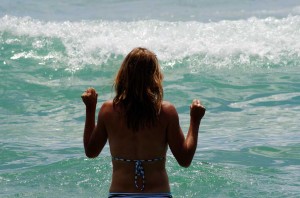 But you quickly forgot about that as you concentrated on not being swallowed by a wave.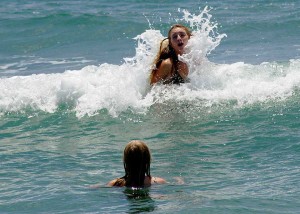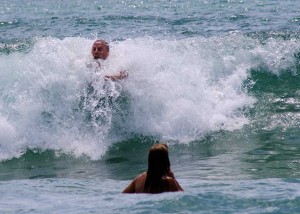 I sucked in enough salt water to cause severe hypertension.
Being by the ocean always tweeks something in me. I think it's the "peaceful and utterly alive" button. I wish there was an ocean in Minnesota. Latte tries to pretend there is.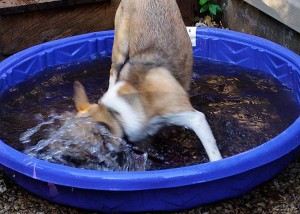 It's been a tough summer — the first whole summer I've spent away from what was my home. I moved into my current house on July 23, 2010.
I comfort myself with words such as these. I hope they have the same uplifting effect on you.
A Blessing
— from"Eternal Echoes" by John O'Donohue

May you listen to your longing to be free.
May the frames of your belonging be large enough for the dreams of your soul
May you arise each day with a voice of blessing whispering in your heart that something good is going to happen to you.
May you find a harmony between your soul and your life.
May the mansion of your soul never become a haunted place.
May you know the eternal longing which lives at the heart of time.
May there be kindness in your gaze when you look within.
May you never place walls between the light and yourself.
May your angel free you from the prisons of guilt, fear, disappointment, and despair.
May you allow the wild beauty of the invisible world to gather you, mind you, and embrace you in belonging.