Rediscovering Outdoor Baseball
Ugh. Yesterday was a carrying horse feed and dog food and trying to hoist up my garage door kind of day. My left shoulder feels as though a knife is sticking out of it. Maybe I should check in a mirror, just in case.
Tuesday, around 5 AM, there was this strange, reoccuring orange glow in the sky, accompanied by a noise that did not sound like thunder but something a little scarier. I sat up in bed, wondering what it was, and then suddenly, my power went out.
I tried to unhook the electric garage door opener and manually lift the door but it was barely budging before dropping back down again, and I didn't feel like trying to drive under a door that wanted to slam shut on me. It was a huge sacrifice but I had to remain home and work from there.
Fortunately, the non-stop rain we've been having did not dampen my trip to Target Field last Sunday, where I watched the Twins play the Padres. It was the first time I'd been to the new stadium.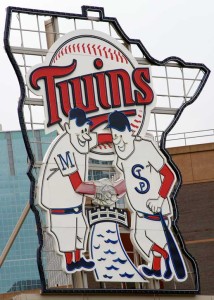 They have these bronze statues there. I liked the one of Harmon Killebrew since I worshipped him as a kid. He died at age 74 on May 17, 2011.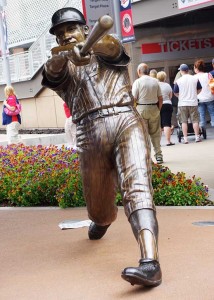 Sitting outdoors for a game brought back memories of watching the Twins with my Mom and my brother when I was a kid. I remember the food mostly, like Cracker Jacks, which tasted like candy coated plastic, but I was always optimistic there would be an emerald, glowy ring in there. More often I got something like a black rubber spider.
My favorite thing to eat at a game was the soft serve icecream in a cup that came with one of those wooden spoons that looked like a miniature kayak paddle and I worried about getting splinters in my tongue. I was that kind of a kid.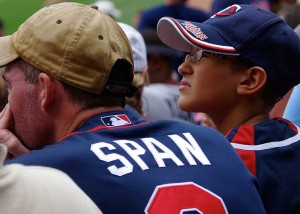 Sunday, I didn't have any Twins attire and was too cheap to buy anything at the game. I hear you can get a good deal on the same clothing at Fleet Farm. I'm not really a baseball fan but I can see myself going back now that they game is played outside. Baseball belongs under an open sky. The food and beer taste better that way.
Here are a few other shots: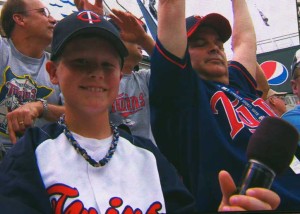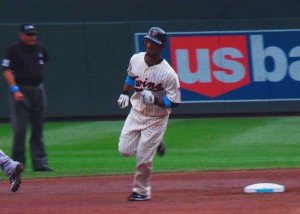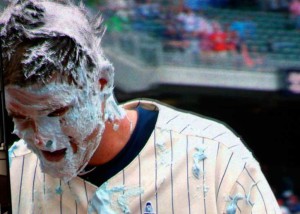 The celebratory shaving cream, looks like it hurts.
(FYI – these last four photos were taken by photographing the big screen that shows replays and stuff as I wasn't that close to the action. If you haven't tried Photoshop's "Noise Despeckle" filter, let me tell you, it's magical.)
I know this isn't my usual introspective, nature loving post, which maybe is a relief, but it actually does have a deeper meaning. How could it not?
I'll explain what attending a baseball game has to do with my life journey in my next post.