Last night, I spent 90 minutes volunteering at "Feed My Starving Children". A group from church went to pack food to send to Haiti.
I almost backed out after a grueling drive home. A four car pile up added 30 minutes to my already long drive and I was a mite crabby. I know how hard it is to believe, but I'm not always jolly and easy going.
When I finally got home, I had to let Java out and feed everyone, including myself, then head right back out the door again. But I'm glad I stuck to my commitment to volunteer. It was interesting hearing about the program and being a part of sending food to people in Haiti. And selfishly, the best part was that the woman who instructed us on how to pack the bags of food turned out to by an old friend's sister. She looked awfully familiar and I walked up and asked her if she was LA's sister? And she said "Yes!" and we hugged each other and talked and caught up through much of my food packing efforts. I hope I didn't screw up some of the chicken portions…
So now I hope I hear from my old friend, who at one point took my son and I in when I tried to leave my second husband. I kind of put LA in a bad spot, and stupid me, after all that trouble, I went back to an abusive husband. She wasn't happy with me. LA was one of those really honest, straight-shooting friends who says things you don't want to hear, but that are the words you really should be listening to. I miss her.
And her sister LB is a great person too. What a wonderful coincidence and it never would have happened if I hadn't volunteered and done something that was a little outside my comfort zone.
Today was another fairy tale day. It was beautiful!
First I fed the horses, who were looking kind of frosty. I left them out last night as my shoulder and back were hurting so bad, I wanted to give myself a break from cleaning stalls this morning. Please don't think this is tough on my horses. They are hardy, hairy boys.
After putting out hay, I got ready to go skijoring with Java. Okay, so you're wondering why, if I was hurting so bad, would I go skijoring? Because it seems to loosen my back up and the euphoria I feel after skiing makes the pain bearable.
I was ultra careful and kept it to a slower pace. I only fell once, when I was trying to make it around a big black hole at the bottom of a hill, where some mischievous people had built a bon fire in the middle of the trail. Nice…
Java got to looking pretty frosty herself, running on the trail and breathing out warm, moist air. My hair was looking similar but I'm not showing you a photo of that.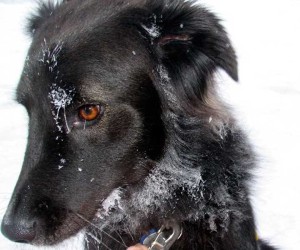 I had to be home by noon because the farrier, D, was coming to trim Luke and Murphy. D gave me the name of one of his clients that's only about ten minutes from where I live now and who might be willing to board my horse. Plus, D said that if I got in a bind, he could board my horse temporarily.
D's wife is into driving and I'm amazed at the things he does for her. He even built a shallow pond last year on their property for her to practice driving through. He put up an old windmill to pump the water. Although, the windmill thing sounds like something D really wanted to put up and he might have had it fill a water hazard so his wife wouldn't object… still, a sweet thing to do (just don't tell him I said so).
After hearing about all the work D's wife has done with training her horses and about the cart she was going to look at today, I really would like to make it to their place this spring to see their annual show. It all sounds very interesting and if it's anything like the shows Lori has posted photos of in her Skoog Farm Journal, it will be a very beautiful thing to see.
The offers of help and information lift me up in ways that I'm sure the people they come from are not even aware of. My words of "thank you" don't express it nearly enough.
Suffice to say, I'm feeling very thankful and happy today.