Even though my cousin is supplying me with a Thanksgiving feast, I still like to make my own turkey at Thanksgiving so I have leftovers for soup and sandwiches and such. Plus, I still had the turkey I received from work last Christmas to use up.
So I started thawing the turkey a week ago, with the intention of making it last weekend. However, when I pulled the turkey from the mini frig in the basement, it was still pretty frozen.
Anyway, it finally thawed and I made it after work Monday evening. It should have taken about four hours, but it was falling apart after three and the internal temperature had reached the desired 180 degrees.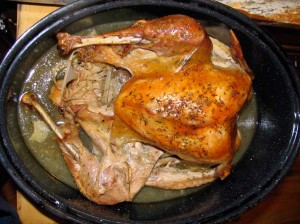 I love making turkeys. They are easy and provide the fixings for a variety of meals. Part of this will need to be frozen and thawed as needed.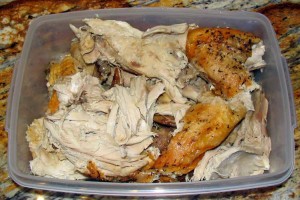 I'm supposed to bring some bread for Thanksgiving day. I haven't made my own bread for awhile so I decided I better do a practice loaf and if it bombed, I'd go buy some bread.
I make up a large batch of dough and then make small loaves as needed so they are fresh. Some batches of dough just aren't as good as others. This time, I used whole wheat for half of my flour so I wasn't quite sure how it would turn out.
I think it turned out pretty good. Now that this batch of dough has been tested, I think it will be safe to make about three small loafs and serve them to someone besides just me.
Java approved of the bread too. She always gets the bread butts.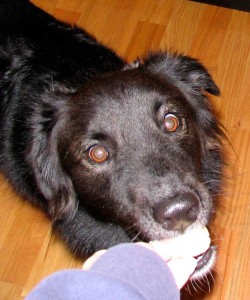 I should have made a double batch of cookies so I could bring those too. Alas, there won't be enough of these left by Thursday to bring them.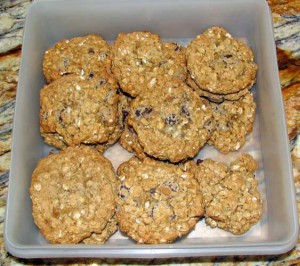 I'm planning on picking up a pie for Thanksgiving also. Maybe next year I'll have more time and more know how and I can make a pie from scratch too. I haven't made one since my childhood when I used to help my Mom make apple pies from the apples off of our trees. Yummm!
I've got a few days off for Thanksgiving and I'm debating about putting up Christmas decorations while I'll have some extra time to do so. But I picture a Christmas tree with no presents underneath it and no one to sit by it with me on Christmas morning and that mind photo does not look very jolly.
Java enjoys a Christmas tree because she can steal decorations and chew them up, which is why I put the ones made out of felt on the bottom branches last year.
Maybe wrap a few presents for Java and a few things for myself? Like cross country skiis for me and a skijoring harness for Java?
Note for Maery's Family: By the way, if you are feeling sorry for me (and who wouldn't) and want to send me something, good salsa would be appreciated. They just don't carry the good stuff in Minnesota, at least not that I've been able to find. I like the stuff with cilantro. Oh, and from my niece who's the photography genius, I want photography lessons next time I see you. Or a CD of you and your Mom singing would be wonderful. And son, I want a drawing – come on, you can do it for me.
How about you? Have you already started or are soon starting to put up the Christmas decorations and do Christmas shopping? Do you go all out on Christmas or just small and low key?
Hope you have a very happy Thanksgiving!