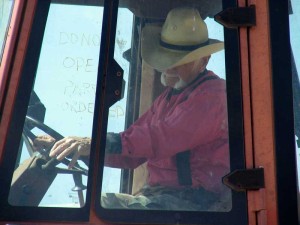 Thankfully there's always another chance to love, to live, and to get it right, until the day we die. — Maery
Last Thanksgiving, I was at my Dad's with my siblings — holding his hand, talking to him, hoping he heard me say how much I loved him and how sorry I was we hadn't had much time to get to know each other.
On November 28, 2008, he died. We fell apart. There was no Thanksgiving meal. Not everyone was able to be there so we figured we'd wait to have a memorial service. We still haven't had it. It's a long story. A really long story.
I wonder sometimes what he would say about my current situation. He always expected a lot of his daughters. Not much sympathy coming our way. I wonder if I would be a disappointment. But, you don't get to be disappointed in the children you didn't raise. And anyway, I'll never know what he would have thought or what he would have said or done. It doesn't really matter.
Yes, it does. I just don't want it to matter to me.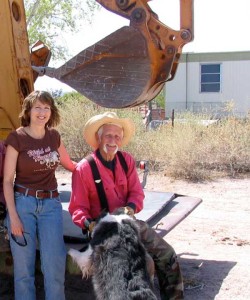 I miss him. I miss the sound of his laugh, his hugs, his dry humor, his arguments about politics, his philosophy on horses and life, his stories, his poems, the dandy way he dressed, the sight of him pulling weeds and raking around his home, the way he handled a horse. I miss him.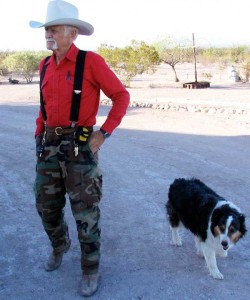 When he died, it was more than losing him that I grieved, so much more than that.
It was the loss of the possibilities of our relationship. Of what could have been after we met, and what could have been if he had never given me up in the first place.
In some strange way, he grounded me. I'm not sure what we had in common besides the love of horses and that part we shared of being in tune with the critters. We were both hard workers. Both had that dry sense of humor. Both got pretty spun up over politics. We were different though in the importance we placed in family and in the relationships in our lives. He carried hard work too far. He carried his pride too far. His expectations too far.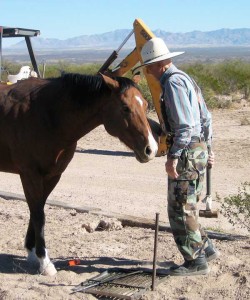 Still, I lost something indescribable when I lost my Dad. I can't put my finger on it. A part of my history? A part of me? A dream of love and acceptance from a father? A sign of what we all meant to him? I don't know.
I never got to finish the mourning process before I got shaken out of it a couple weeks later and had to concentrate on trying to save my marriage. But I didn't really move on. I'm sure you've all had the experience of what happens when you stuff thoughts and feelings. I was angry, frustrated, scared to death, hurt, confused, and incredibly sad. And those feelings came out about things that had nothing to do with the feelings themselves. Then more loss, piled so close on top of each other that it seems unlivable. I guess loss always seems that way.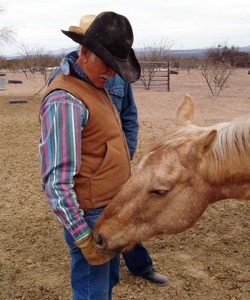 Like I said, I miss him. And maybe I miss me, the me I might have been, the me that I saw in his eyes, the me that should have spent hours riding with him but never got to, not even once.
About a year before he died, my Dad had asked me to write about my childhood. But I never did because I didn't think it was the kind of story he really wanted to read. I think he longed for a fairy tail with a happy ending as much as I did.
I think I need to let go of that person that might have been if… Who knows if she would have been better or worse.
There is the woman that I am today, right now. And if nothing else, she's interesting.
I hope my family will have the chance to have that memorial service sometime in 2010. I think we need it. I know I do. I think we need to be together and share stories and grieve this out and maybe mend some fences and pull some weeds, both literally and figuratively, in honor of our Dad.