November is National Adoption Month
I took a writing class at the Loft Literary Center today. The Loft is a nonprofit arts organization that resides in the Open Book building. They offer writing classes in all genre, special readings by local and national authors, competitions and grants, open writing and reading groups, writer's studios, and more.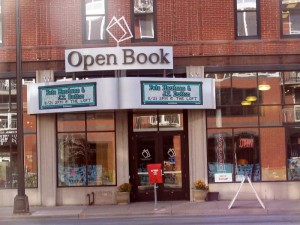 I love the place. When I won a mentorship there, part of the award was to have a writer's studio for a few months. I got so much writing done in my little private studio, plus it just sounded cool, "I'm going to my writing studio after work" (said in a very literary-type voice).
The building itself is special and you feel creative and happy just being there. The Loft is one of the reasons I sometimes think about living in Minneapolis. Right now, it's hard for me to participate in anything there because I need to run home to Java and once I've driven 25 miles away from Minneapolis, it's pretty hard to convince myself to drive back for a two hour class or a reading.
But I just don't know about me and living in the city, especially in one of these condo thingees, although I do see quite a few people walking around with dogs.
I'm afraid I wouldn't be able to breathe. And the traffic is so noisy. And where do you put a bird feeder? And I'd be too far from whatever stable I end up boarding at. Sounds like I have my answer on that one.
Anyway, back to the class. It was called, "Writing Your Family Stories: A National Adoption Month Special".
The description of the class went something like this, "Most people are touched by adoption in some aspect of their lives. The session will include readings by the instructors, writing activities, and discussions. You will have the opportunity to share your newly hatched writing and become enriched by the family stories that are brought to light."
Margaret Hasse, whose newest collection of poems is called "Milk Tides" (Nodin Press, 2008). The poems touch on the stages of motherhood, biracial adoption and the surprises of aging.
Linda Back McKay, whose books include "The Shadow Mothers: Stories of Adoption and Reunion".
Kate St. Vincent Vogl, whose most recent work is a book called "Lost & Found: A Memoir of Mothers" (North Star Press, 2009), in which she reveals what happened when her birthmother found her through her mom's obituary.
It was a fantastic class! For so many more reasons besides just the chance to write.
There were some great writing exercises, one of which was to think about something that bothers you that involves another person, then write about it from the other person's point of view. That brought some interesting results.
And it was great to hear other people's adoption stories — some from the viewpoint of the birth Mom, others the adoptive Mom, and then the adoptee. Some of the women there had been on more than one side of the adoption triad.
Another great part of the class for me was that I volunteered to read when the option was opened after every exercise. I'm generally a one-on-one person. I don't know where to focus in a group. I don't know when it's okay to talk. I'm usually more of a listener. Usually… used to be… not so much anymore.
One thing I've learned is not to expect other people to notice me, to invite me to join in, to draw me out. Those kinds of expectations only lead to frustration and disappointment.
I'm learning to like speaking up. I'm really liking that it means I meet a lot more people and that they open up to me because of the things I reveal to them. It's worth taking the risk. If I'm more myself, it allows others to be more themselves.
Here's a sample of something I wrote in class. I wonder if I can take credit for my word count today, even though this is for another book I have percolating.
I was about five years old when I was told I was adopted. My parents had a special book the adoption agency had given to them to help them gently break the news to me. It was called "The Family That Grew". The story used the concept of being "chosen" to help an adopted child feel loved and special. I quote, 'Choosing a child is called adopting a child, and the minute they saw you, they wanted to adopt you.'
But I knew even then, that what was chosen, could also be rejected. It's been proven to me over and over again, throughout my lifetime. I was chosen, like a pup from a litter is chosen. 'Isn't it cute! Isn't it cuddly! I know it will grow up to be the dog I have imagined in my mind. It will fit in perfectly into my life and seamlessly become part of our family.'
But then perhaps what you've chosen doesn't fit in. With a dog, just bring it back to the pound. With a child, not so easy to return. With a wife… well, whatever.
If only it was like making a selection from a box of fine chocolates, that has special markings on the top of each morsel and a key in the box cover that tells you what's inside. I hate the boxes of chocolates where you they leave you completely in the dark, forcing you to stick your fingernail into them to see what oozes out.
If only children up for adoption were like cream filled chocolates where you can cheat and poke your finger into them and see if it's the dreaded white cream filling or a rich dark chocolate, your favorite.