Do I Have to Go Back to Work Tomorrow?
It started out looking like a very depressing Labor Day weekend, without much to do to distract me from my divorce funk. But then, in steps Super Cousin A! Who, being the lovely person that she is, invited me out to the family cabin on Sunday. A and her husband and their now adult children were there. Plus my Aunt and cousin R and his wife. Plus a couple more friends stopped by too.
There was tons of wonderful food. I really should have taken a photo of the spread because it was a real mood lifter.
We had a good time gabbing as usual. Then A's two daughters talked us into playing a very loose game of volleyball in the lake. A video of the tense action would have had you all on the edge of your seats, but alas, no video. Sorry…
I had to get home to Java, and Cousin A followed me there. We were going to get an early start on hitting the MN State Fair on Labor Day, so A spent the night at my house.
When we got to the house, Cousin A gave me a set of four coasters she made from broken plate pieces set onto tile with grout in between. They're so pretty! What a great surprise!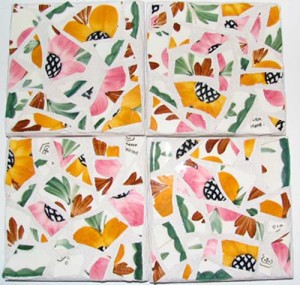 We sat up late talking about our crazy childhoods. It's a wonder any of us survive "the best years of your life". It was kind of like old times, when we used to do sleepovers, but we couldn't stay up too late because we were going to get up at 5 AM. We were very serious about the state fair thing.
We left my house at 6:30 AM, planning on taking the bus from the mall to the fairgrounds, but the buses didn't start running until 8 AM so we drove all the way to the fair grounds and parked there. I thought everyone tried to get to the fair before 8 AM. But I guess not. Live and learn…
We found a church diner to have breakfast and split a scrambled egg, bacon, potato, and pancakes breakfast. One serving was plenty for both of us.
We then started our fairgrounds tour. The big thing at the MN State Fair is to serve as much food as possible on a stick. They also like to deep fry everything — pickles, Snickers bars, even fruit! And, of course, put it on a stick!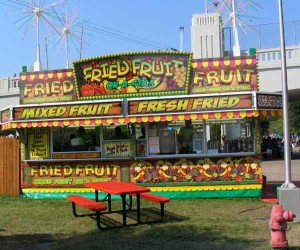 This place decided to go anti-stick.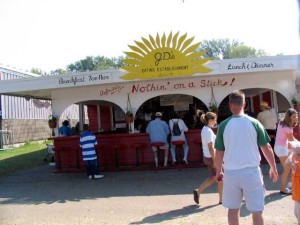 It's all about the food. And lots of it.
And we also checked out the midway to see if it had changed much from when we hung out there as kids. It was a lot cleaner than we remembered. And the workers all had respectable clean red shirts on rather than the wife-beater t-shirts on the guys and the skimpy outfits on the women that we remembered.
Still, it was like old times for us, only we didn't bring any cherry vodka and didn't pick up any carnies. Just kidding! Really! Ha! Ha!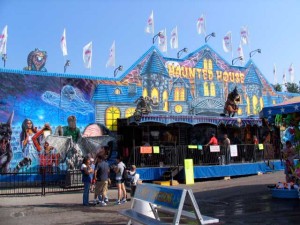 We discovered an amazing musical group at one of the bandshells. They are called Abalone Dot, and the group consists of four beautiful, talented women from Sweden. I loved the combination of the string instruments and the unbelievable harmonies. All the women did solos at times and all had equally wonderful voices. I had goosebumps during the entire performance! I think they called their style "soft folk". Embedding is disabled on YouTube but you can hear their song
Lose Again
there.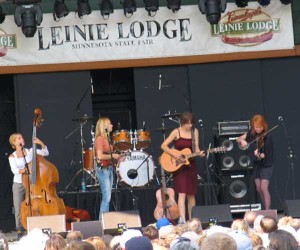 We met up with A's daughters and one of their friends. But by 3:30, the crowds were thickening, and I needed to get home to Java.
When I got home, I had a corn dog.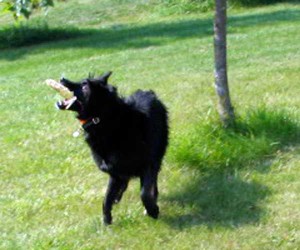 That's where that missing ear of corn went! Silly Java.
So, as you can see, it turned out to be a much more eventful, and fun-filled weekend than I had thought it would be. There were a few sad moments at the fair as it's been kind of a fun yearly event for H and I.
When I sat down at the computer, the following words poured out of my head. Excuse my sentimentality, but it's my unedited, 60 second brain dump. It must have been all the pretty Abalone Dot songs conspiring against me…
There's an ache so deep
It threatens to choke my breath.
But one of these days
I'll be done crying over you.
And one of these days
You'll be crying over me.
I'm waiting for the day
Someone sees the beauty in my soul.
I wish it'd been you.
But first, I had to see.
And now I do,
Now I do.