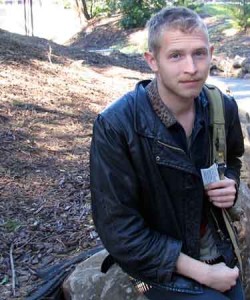 My son in Golden Gate Park
Saturday, my son and I went to the De Young Museum in Golden Gate Park. They had two special exhibits – Andy Warhol and Yves Saint Laurent. The Andy Warhol exhibit was mainly album covers he'd done, some photos of him, and films that he had done. I hadn't realized Warhol even did album covers and films so that was interesting. But it was the Yves Saint Laurent fashion display that really amazed me. I'm no fashionista but the dresses were like works of art, which I guess is really what the fashion show clothes are about, more artlike than wearable. It'd be so fun to be able to just try something like that on, with all those feathers, sequins, and color. 

Sunday did not go exactly to plan, but sometimes you get something even better that way. My sister and I were walking towards downtown Berkeley, planning to enjoy the sunny, warm weather and see what interesting shops we could find when we walked past a doorway where a wave of lively gospel music washed out the door and over us.
We stopped to listen and my sister said "Let's go in!" I was a little worried that we wouldn't be welcome just walking into a church in our jeans and tennis shoes. But a couple church women saw us and invited us into The Way Christian Center. 
We immediately joined in the clapping, swaying, and singing. Every time I thought the song was going to end, the organist would start it all up again. People were so friendly, hugging and greeting me as "sister Mary". We left the service energized and ready for our walk.
We stopped for coffee, of course, which we enjoyed outside because it was a such a sunny, warm day. Felt so good to feel the sunshine on my skin. Haven't had much of that at home.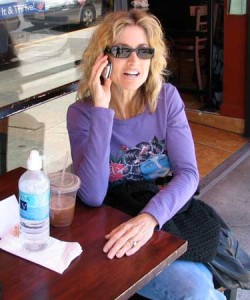 My darlin sistah
My sister and I actually haven't been to San Francisco yet. We've been spending all our time walking around Berkeley and yesterday we walked to Albany, a rather upper crust neighborhood, where we couldn't afford to shop but it was fun to look.
We picked up Lain in the evening and fed him. (Sis and I had already ate leftover Chinese food in our room.)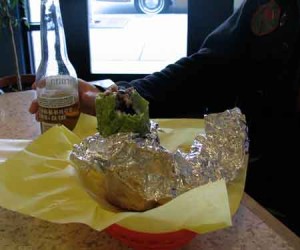 Veggie burrito in spinach tortilla
It's been raining all day today so no walking for us. We'll be leaving soon to haul the cheese and crackers, cake, and beverages to my son's art exhibit. Hopefully, I'll get some good photos to share.