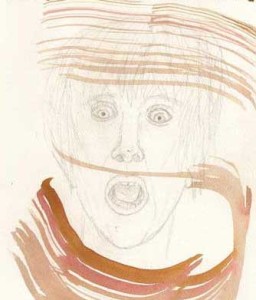 I've been a bit stressed out lately. My son lost his job. I worry that my husband or I might be next. My house is torn apart from doing some work on the floors and painting the walls. I never have enough time to even remotely catch up on the things I need/want to do. And I just seem to be so tired all the time. 
Stress…we're all feeling it.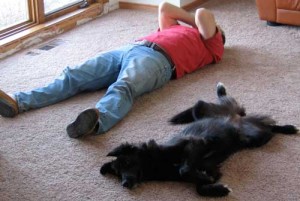 I started jotting down a list of things that might bring my stress level down. I think I got a little carried away:
My son soon gets a much better job than the one he had.

The economy turns around – not back to the crazy, out-of-control consumers, and crooked banks economy we had before the bottom fell out – but something better.

$20,000 magically falls into my lap. I suppose if you're going to do some crazy dreaming you should go for $100,000 or a million, but I'll settle for an extra $20,000.

Someone discovers me through my blog and signs me up for a book contract and weekly column gig.

I am a published author, sought out by many, including Oprah.

Days last 32 hours long (and that doesn't mean we work more hours).

I meet a really cool horsewoman that lives near me and likes to go trail riding and would love to take care of my animals when I go out of town and is a completely trustworthy and sane person who has other horse friends and we become this awesome group of friends, like you see on TV, only with horses.

Java ALWAYS comes immediately when I call her.

My horses never shy and always follow my cues.

My horses neck rein so I can enjoy a "beverage" while I'm riding.

I wake up every morning full of energy.

I look and feel like I did before I turned 50. — I should maybe clarify that I want to "physically" look and feel like I did before I turned 50. Mentally, believe it or not for those who know me, I'm actually better off now.

I never have trouble completing a sentence because I can't remember a word.

And I always remember people's names.

My house is always organized – not a speck of clutter or undone paperwork anywhere.

All the walls inside the house are painted and everything is hung up and put back where it belongs.

I actually have time to read the books I buy and check out from the library.

During the winter, it is light out when I go to work and for 3 hours after I get home from work.

I own the perfect purse. (I'm so tired of thinking I finally found the purse that has a strap that is the right length and width and material so it won't fall off my shoulder and it has just the right number and size of compartments that I'll be able to find what I'm looking for, only to be completely disappointed within a week of owning it.)

I actually know how to garden so I have this abundant, veggy and herb filled garden – not a pest or fungus in sight.

Along with the garden wish, it would probably help if I was good at cooking and canning and that sort of thing.

I always have freshly baked bread available.

And homemade cookies with some kind of chocolate in or on or even next to them.

Groceries magically replenish themselves so I don't ever have to go shopping.
Okay, I've started to think about food. I need to stop now. Besides, I think that list would do it. I'd be as calm as can be. 
In the meantime, I'm taking up meditation and prayer, lots of prayer…