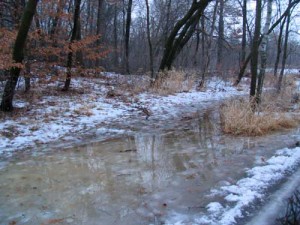 There's a lot of meltage going on
And it's not a good thing
Cuz a freeze is a cominnn tonight.
I could be a songwriter. Or not…
I about broke my neck trying to walk to the barn in the dark this morning. There's some snow, some grass, a lot of ice, and puddles resting on top of all of it. Tonight it's supposed to drop down to 25 degrees and stay in the 20s for at least a week.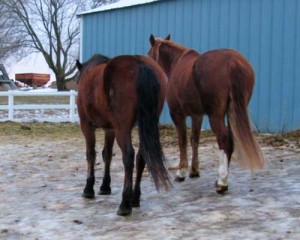 I worry about the horses slip slidin away. So I put down a hay and dirt mixture by the water tank to help them out some. Unfortunately, I can't cover the whole paddock.
And you know why we're having this early thaw when just a couple weeks ago we had all this lovely, fluffy snow? It's because I bought snowshoes a couple weeks ago. Java and I had a blast the two times we did manage to get out and snowshoe. Well, I snowshoed. Java just ran around.