A Woman Waits Patiently By the River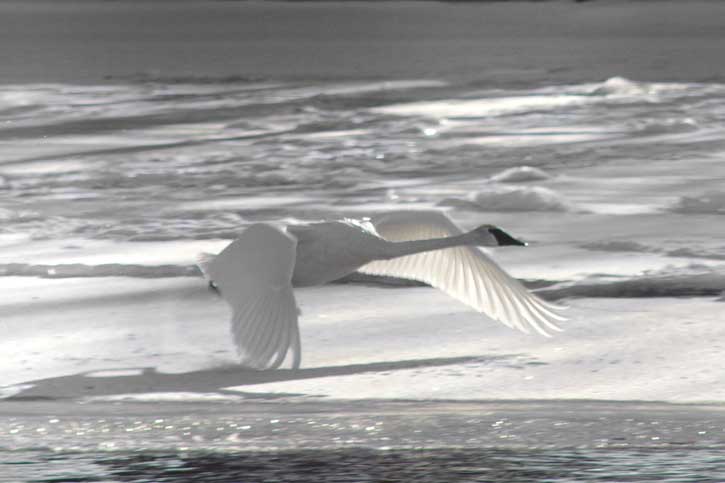 A woman waits patiently by the river
Her dogs sniff the ground nearby
She watches feathers of white dip their heads
Disappear, then reappear
Beads shimmer and drip
Beaks run through feathers like a comb
The woman wishes and wants
How can every movement be words of grace?
Okay, heads dip, butts stick up, legs kick in the air
That's much more relatable
A woman waits patiently by the river
Her arms raise up with swan wings
She tests how much space she can fill
She watches one pair
Heads bobbing
"They love each other," she thinks
No, probably not love
More like commitment
Faithfulness
What are they willing to do for each other?
A woman waits patiently by the river
Her dogs have long ago become bored
They look at her with hope-filled eyes
Swans are leaving
One by one, two by two
They run flipper toed
Across water
Stirring the pot, so to speak
She raises her arms again
Wishes and wants…
A woman waits patiently by the river
Lowers her arms and pets her dogs
It's enough for now
To know that she can too
Raise up from still water
Stir the pot, so to speak
Be a strange combination
Of grace, awkwardness, and noise
Making people raise their heads
And look
~ Maery Rose
---
Today, I listened to the On Being podcast, the Wisdom of Tenderness. It was a rebroadcast of an interview by Krista Tippet with Jean Vanier, which was originally aired in 2007.
The early part of the conversation touches on Aristotle and his view on desire and pleasure. Aristotle defined pleasure as an activity that you perform well. Perhaps this is why I find it more enjoyable to keep a pleasure list rather than a gratitude list. Pleasure can include the act of writing, even though I may not have felt that I did it well, accompanied by the bliss of the chocolate I ate while writing.  
The On Being podcast progressed to Vanier stating that everyone's deepest desire is to be loved, "to be seen as somebody of value."
Being seen as someone of value, when your ability to do for others is limited by circumstances, is a sticky wicket. Just being has never seemed like a trustworthy way to earn and retain love. But I am learning…
Love is not out there, at least, it's not where to start. If you don't love and see your own worth, then no outside love can ever truly reach you. You can't accept it. You don't trust it or believe in it.
Since I no longer have the great energy it takes to prove my worth, all I can do is say, "Here I am." 
And there is power in that.
In spreading your arms and taking up space.