The weather here has been hot and humid. I hate humidity. Besides making you feel swampy as soon as you step outside, it brings on migraines for me. So I've been pretty miserable all week, until last night anyway, when some cooler, dryer air moved in.
But when I rode Luke yesterday, it was still humid and he was not very enthusiastic about moving. Next Saturday, if things come through, I'll be riding in a clinic where I board. I mainly want help with figuring out why Luke won't canter to the right. He's never been very balanced or strong going to the right, but now he just won't stay in the canter and it feels all wrong. I think he's cross-cantering but I need a second set of eyes and another opinion on how to fix it as nothing I've tried is working.
Luke has a new pasture pal.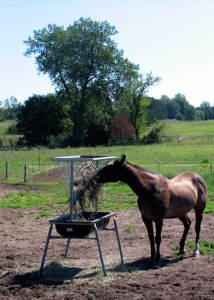 But he is currently keeping his distance and is way off to the left. The gray horse in front of Luke is in another paddock.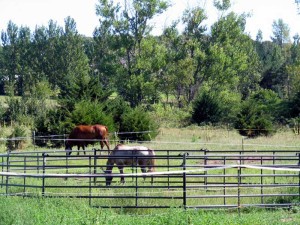 With all the rain, heat, and humidity, the bugs are doubly bad this year. Luke is trying to pretend to be a fly so maybe the real ones will leave him alone.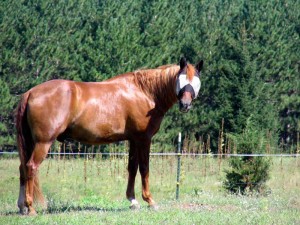 I went to the annual Irish Fair at Harriet Island today. I mainly enjoy going to hear the music and watch other people listening to the music, especially the uninhibited little kids, who dance with utter abandon. I wish I could have photographed some of that but parents tend to get a little freaked out when strangers take pictures of their children.
I did capture this one little girl. You see a lot of River Dance hair at the fair, since many of the girls perform at the event.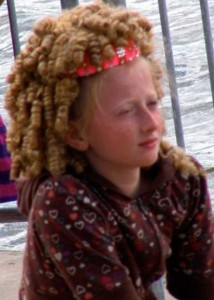 And there was this girl, who was running in circles with her dog.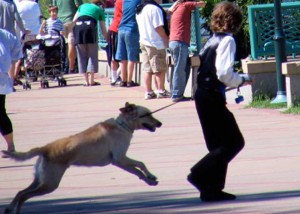 There was a bagpipe competition.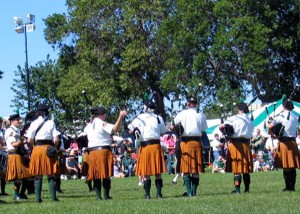 And a hurling demonstration.
I tried for a little artistry in my photographs. I liked the look of the lines of the speaker towers against the sky.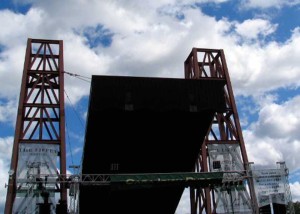 And the sun peeking through the clouds.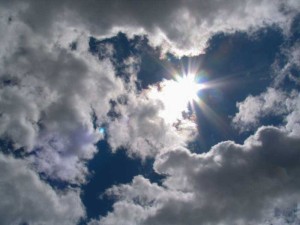 And the city skyline on the other side of the Mississippi River.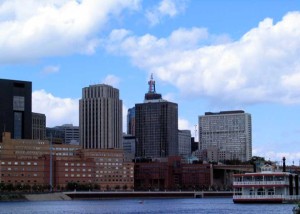 And, well, this is my camera acting up again.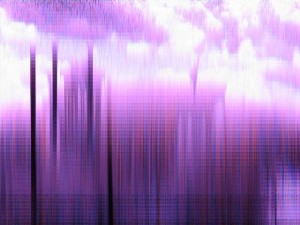 I think I need to send the darn thing in to Canon this time, for real, for repair. Even the non-modern art photos are just plain blurry.
But like I said initially, the main reason I like attending the Irish Fair is the music. The first group I saw was called McInnis' Kitchen.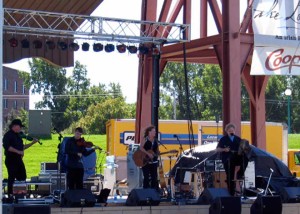 My favorite group of the day was the two men in Reverse Cowboy. Besides great music they included a bit of humor that brought a smile to these Irish eyes.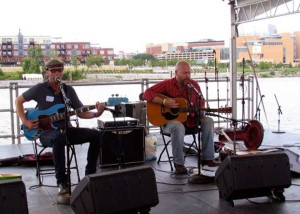 The High Kings were the biggest act and have a lot of videos available on YouTube.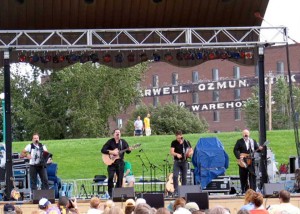 So just in case you like Irish music and dance like I do, I've included a couple videos from the High Kings — the first is music, the second is drum and dance.
Enjoy!