Finding My Artistic Voice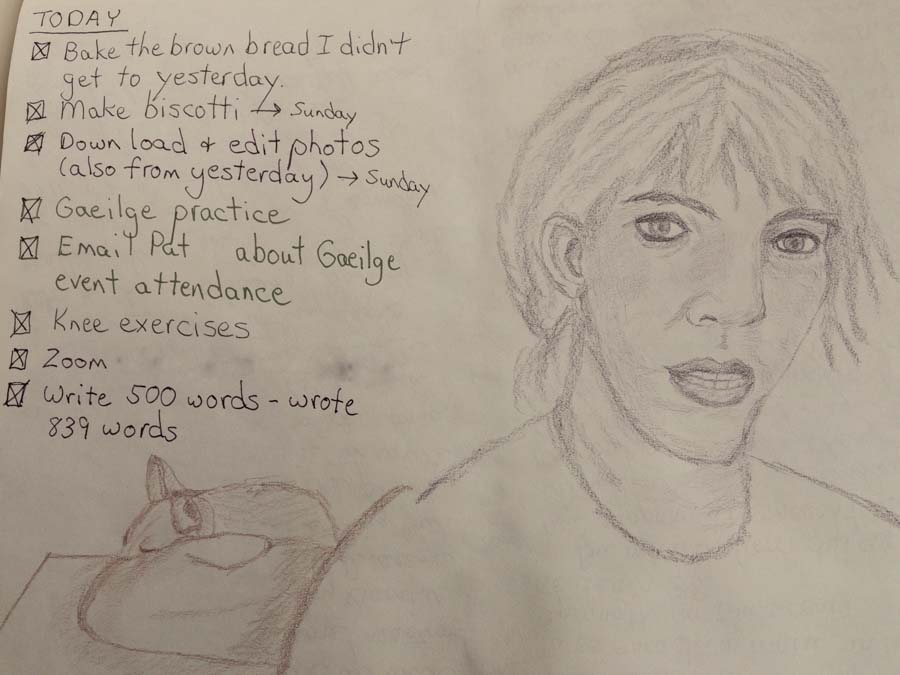 Last month, I read the book Find Your Artistic Voice by Lisa Congdon. In the first few pages, Congdon clarifies that the title is a bit misleading. It sounds like your voice is something solid—fixed and final—and all you must do is find it. In reality, your voice is always changing.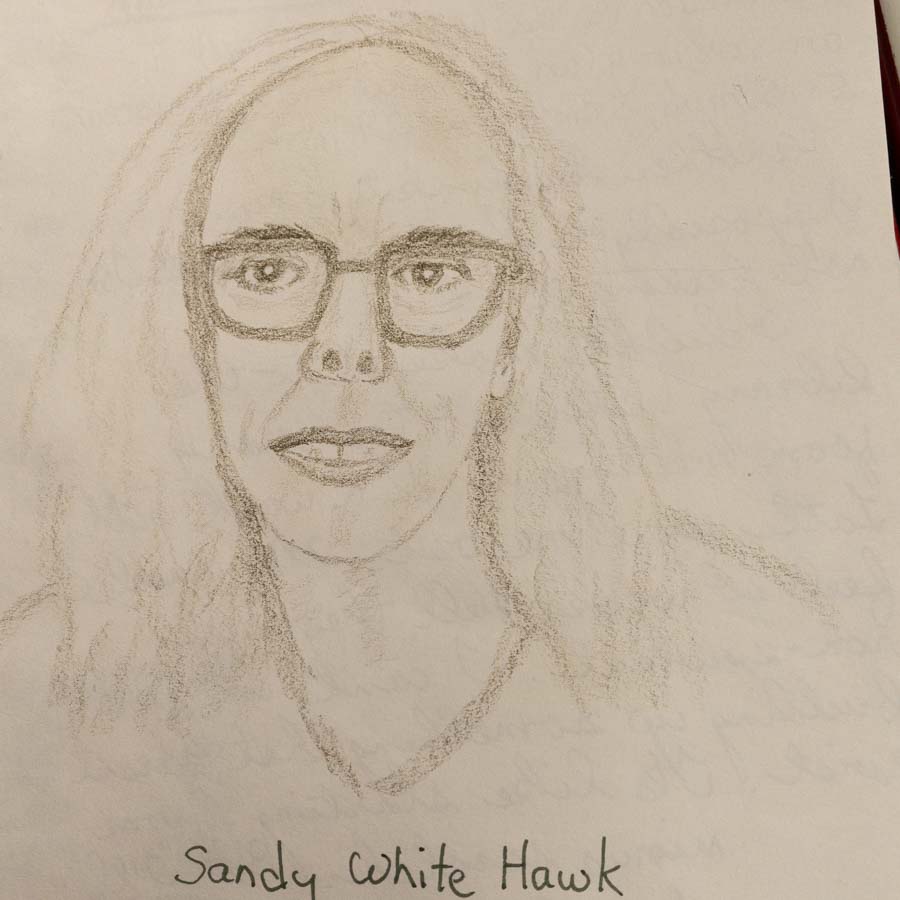 Lately, I've felt like I'm stuck in a rut–both with the art medium I use and the subjects of my drawings. Do I have a style or a voice? None that I can identify. I'm not a landscape artist, nor do I enjoy drawing architecture or objects, like fruit or a plate of food.
I like drawing portraits of people or dogs. And all was good in the beginning—when I was seeing my drawings get better. There were times when a drawing surprised me. It made me smile, similar to the way I laugh sometimes when I read something I wrote and think, that's actually good. And then I wonder, Where the hell did that come from? Did I do that?
So I'm trying to find how to have more of those moments of surprise and wonder and amusement and being tickled with something I created. It seems to become more difficult the longer I've been at a creative endeavor. Something switches inside me, taking me from finding happiness in the practice to only feeling drudgery in the work.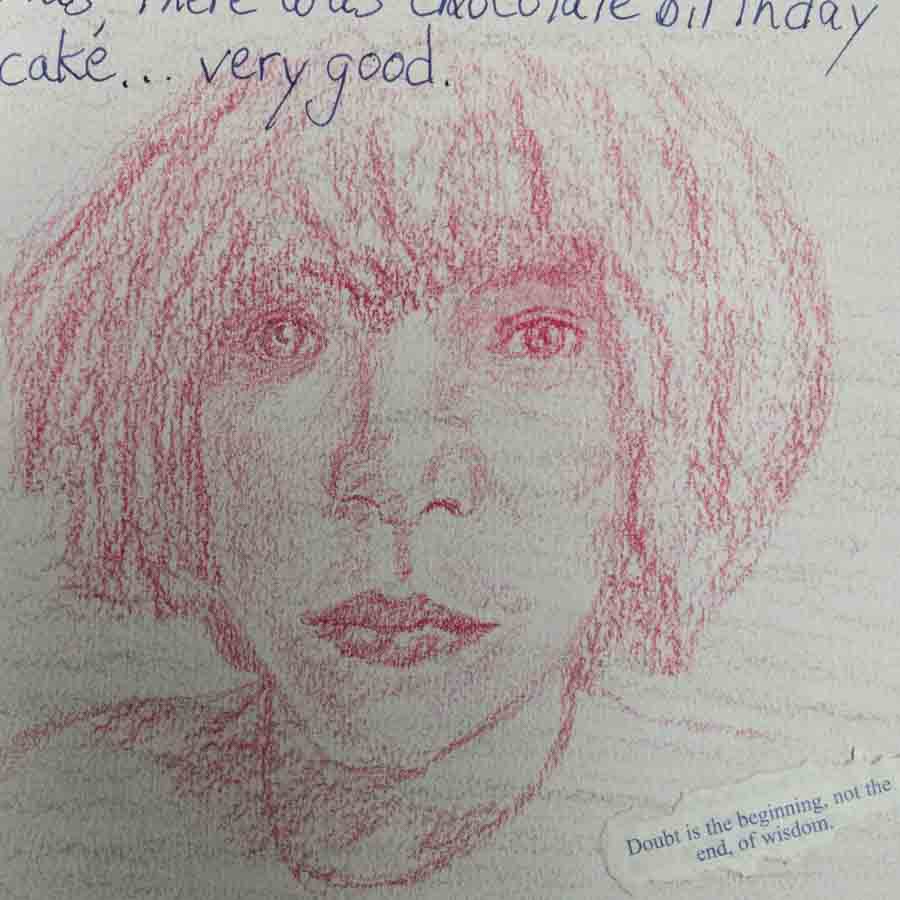 I know things can't always be fun and games. You can't wait to be inspired—for the muse to dance around your studio or desk. She's too damn fickle. But that's what people often think creativity is all about. Only those moments. But there is actual work and discipline involved. There are off days. And to keep going, well, I'll speak for myself, I need those sparkly magic moments to show up once in a while. Is that asking for too much? I don't think so. So what's the answer?
One day, I wrote on my chalkboard Daily Novelty. They were words that popped into my head, the way words sometimes do. But for a person who thrives on routines and rituals, Daily Novelty is like a cow jumping over the moon. Unless… I can weave it into my routine without making it un-novel.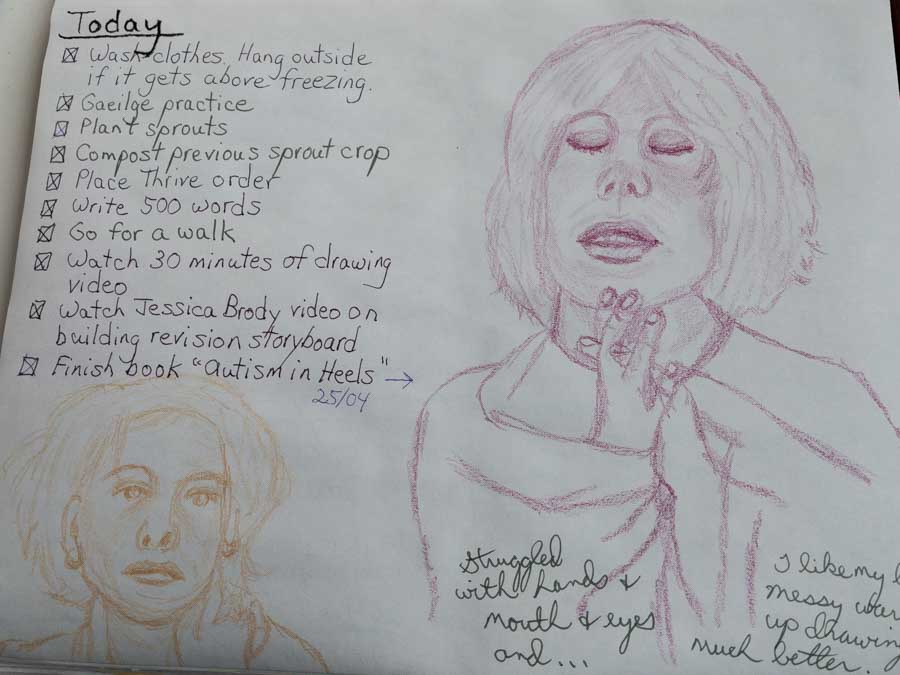 I began awkwardly, as I generally do. I went to the library to find portrait photography books. Hoping they would have interesting people to draw, rather than the selfied, overly photoshopped, expertly attired, and made-up faces you find online.
I wanted interesting faces that tell a story. I don't know if I've found that exactly, but the photography collection in Patti Smith: American Artist, by Frank Stefanko, and Women, by Susan Sontag and Annie Leibovitz, have been fun to work with.
In addition, the Art Prof (Clara Lieu) has a Flickr account with loads of reference photos, including people with a wide variety of facial expressions, ages, and body types. I've only begun to explore Prof Clara Lieu's website and YouTube channel. She's very generous with free materials as well as paid classes and a Patreon page. It's a lot of material and I'm trying to figure out where to start without overwhelming myself (in other words, trying to avoid my usual all-or-nothing, bull-in-a-china-shop approach to learning).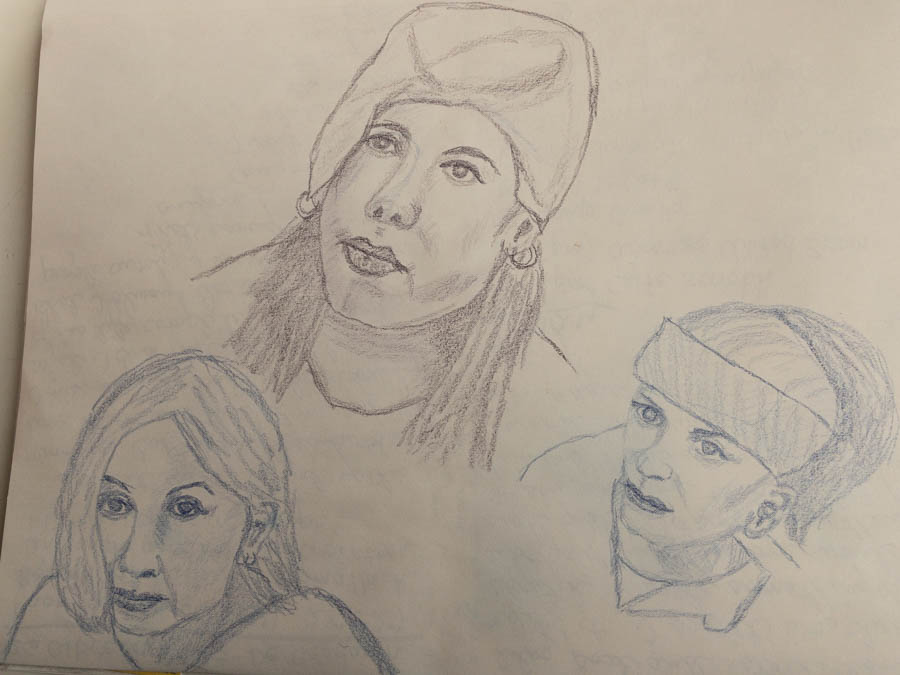 A recent Art Prof YouTube video was about drawing Fan Art, something I've never done because who or what am I a fan of? But then I thought of Xena the Warrior Princes. How fun would it be to draw a Xena sneer, a Xena warrior cry—she had such an expressive face. Better yet, what if I found a Xena photo, then took a selfie, trying to mimic her expression, and drew that? Okay. Now I'm getting excited.
But I also fear that what is beautiful in my imagination will come out twisted, unbalanced, even hideous. I have the same fears in my writing. The thing is, I definitely won't know what's possible or find solutions to drawing or writing problems if I give up. So I work on being okay with feelings of frustration and with making mistakes and doing something badly. Each bad sketch or story carries me one step closer towards improvement—or so I tell myself.
Besides, I do this for fun. Remember?