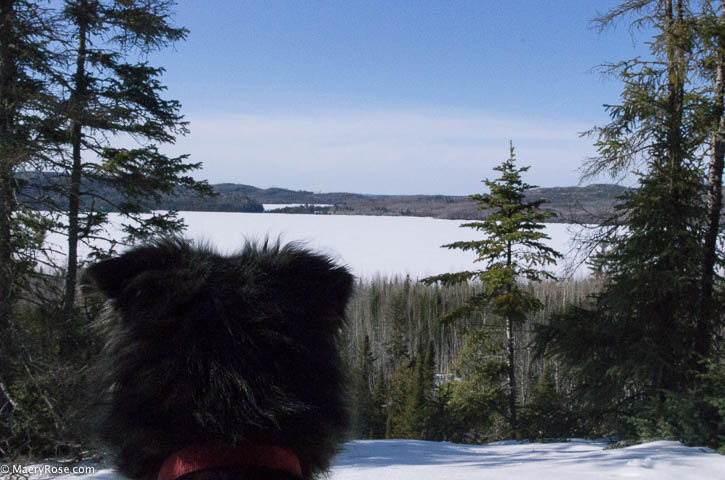 "There are stories of animals that have been bred in captivity experiencing the terror of the open door. It might seem counterintuitive, but captive animals often have the good sense to know their chances of survival in the wild are uncertain at best. The prospect of running away or flying off is simply too painful and frightening. So they stay put in the sanctuary of the cage… The instinct for liberty may be deeply ingrained, but we are all captive in someway to something… The cage of habit. The cage of ego. The cage of ambition. The cage of materialism. The line between freedom from fear and freedom from danger is not always easy to discern." ~ Kyo Maclear, "Birds Art Life: A Year of Observation"
Last weekend, Steve and I and the dogs were at Gunflint Lodge for my 60th birthday escape. As we drove along Lake Superior towards our destination, the sky was cloudy and gray, as it had been for days. The wind whipped the expanse of blue Superior water into a white capped frenzy. Waves ran towards the shore where they struck against black rocks and the cliffside, sending fountains of white water spraying into the air. We passed by a couple spots where surfers, clad in wet suits and carrying surf boards headed towards this welcome gift of raucous water.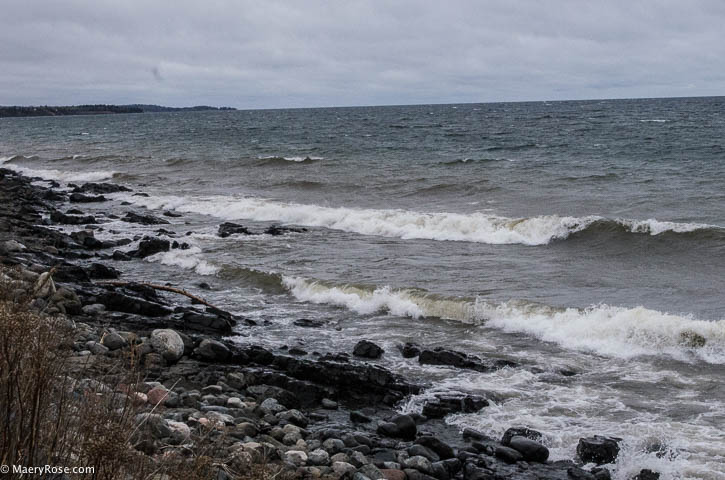 As we neared Grand Marais and the Canadian border, we saw the cloud wall end and blue sky open up in welcome. I wondered whether we had somehow passed beyond the reach of Trumpelstiltskin's dark spell.
We started to see snow — at first, just thin patches and then real whiteness. With the combination of sun and snow, I felt a cleansing blindness of being. Once we reached our cabin and began hiking, A happiness and gratitude that had been missing from my life for too many months filled me, like honey poured into a jar.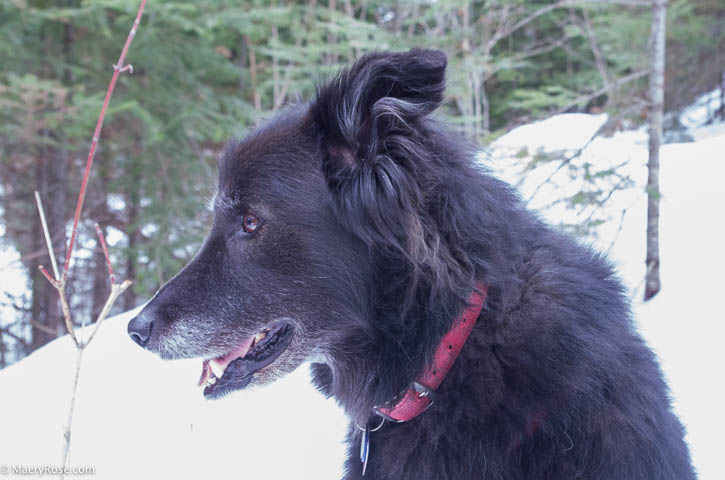 We headed out each day to explore the snowy trails with the dogs. Fortunately, we had brought STABILicers to strap onto our boots. Warm days, freezing nights and precipitation mixtures of snow and freezing rain had turned the paths into a challenging mix of ice and sliding snow-shale sheets. Try to say that ten times really fast…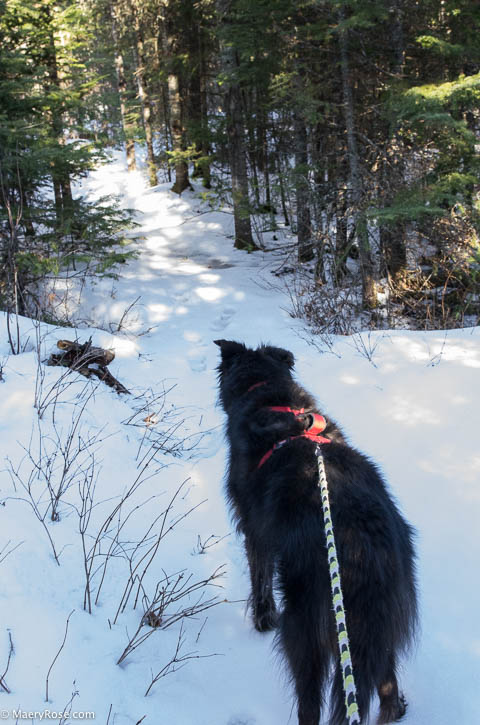 If you live in Minnesota, where freezing rain has become more common than snow (thanks to that fake pollution and global warming effect), you really should invest in these babies. They are miraculous! I'd recommend them over YakTraxs any time. Even with a 70 lb dog sliding down ice and hitting the end of the lead attached to my skijoring belt, my feet held in place. Java and I should do a commercial…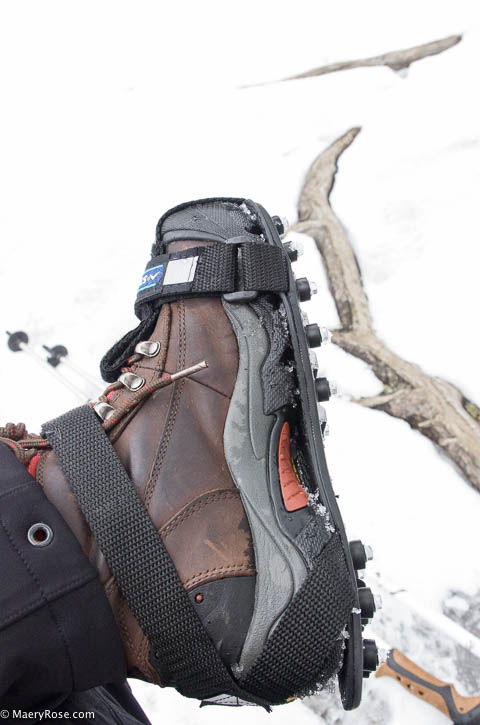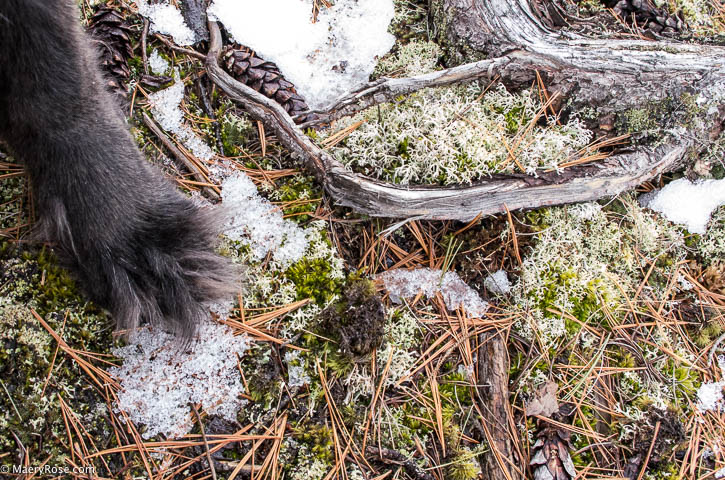 Besides hiking in the hills, we walked on Gunflint Lake. If we'd crossed to the middle, we would have been in Canada. It was tempting. We found footprints that we believe belonged to a wolf, based on the size and depth of the print and the straight path it took across the lake. Even just seeing the footprint of an animal you only know from photos and sound recordings of its soul pulling howl, is something that leaves you feeling in awe. I wish I had a better word for it, but you know the feeling I speak of. Anyone who has ever read "Women Who Run With the Wolves" knows what I mean.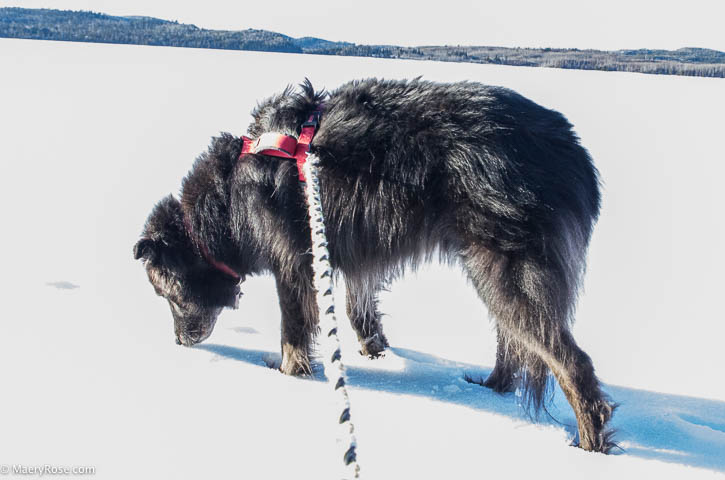 Java, like me, was full of bounce. We did a bit of romping across the snowy lake, where it was flat and fluffy — as much as my achy knees would take.
It was so good to be silly. To feel childlike. To not worry about how I looked. To just laugh.
Our trip was a good escape. I had no trouble walking out of my cage. I didn't hesitate. But now I've returned, not yet to work, but to home, to taking care of Luke, to laundry and grocery trips.
How much of our wild nature, once found, can we hold onto after we return home to routine and duty? How much childlike wonder, unrestrained self expression, and the internal quiet we find in nature can we keep? Should we even try?
I think we should.