Part 7 of Oregon Trip: Heading Toward Home on the Amtrak Train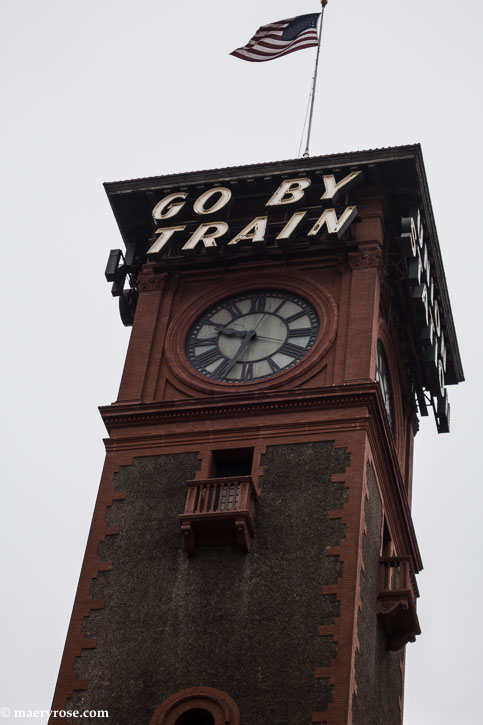 At the end of September, Steve and I took an Amtrak train from St Cloud, Minnesota to Portland, Oregon for a destination wedding. The following posts are about our experiences on the train and in Oregon, which I wrote down in my travel journal. You can read previous posts here:
Tuesday, October 6, 2015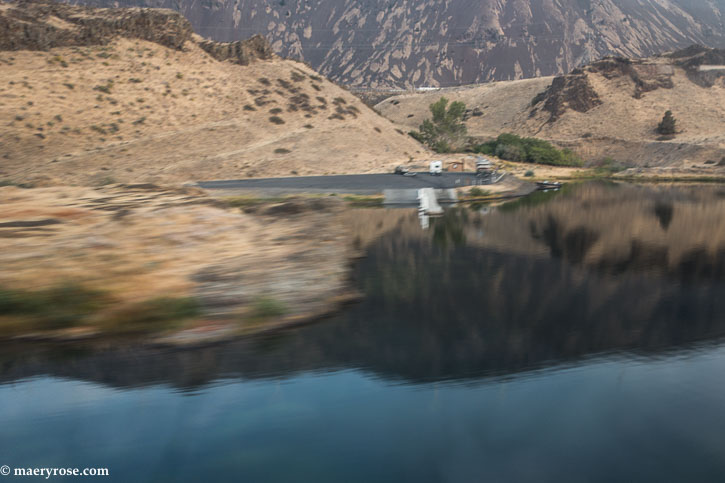 We are back on the train, traveling along a river in Montana. It's difficult for me to take my eyes off the view. The river we're passing by is a deep, aqua blue, the kind of color you see in post cards of the Mediterranean Sea. It's so clear you can see the rocky bottom. This is another place I could see myself living.
Most of the trees are outside the window are evergreens but there are yellow accents of Tamarack and aspen, as though an interior designer had a hand in the decor: "We must have our accent pieces!"
It's interesting taking photos out the window. They turn out like impressionistic paintings with a soft blur of motion. I wish I had taken more pictures but believe it or not, I had reached photo saturation by this time.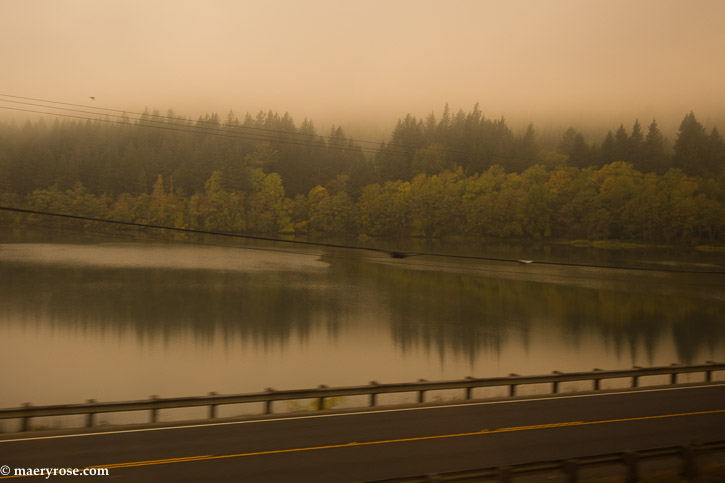 The most common question I was asked at the wedding was "How did you like the train?"
Taking the train to get from point A to B is not something I would recommend for every one. If you are a type A, like to get to your destination as quickly as possible because your destination is what you consider your "vacation," or you don't enjoy sitting and reading and looking out the window at the scenery passing by, then the train is probably not for you anymore than driving a car would be.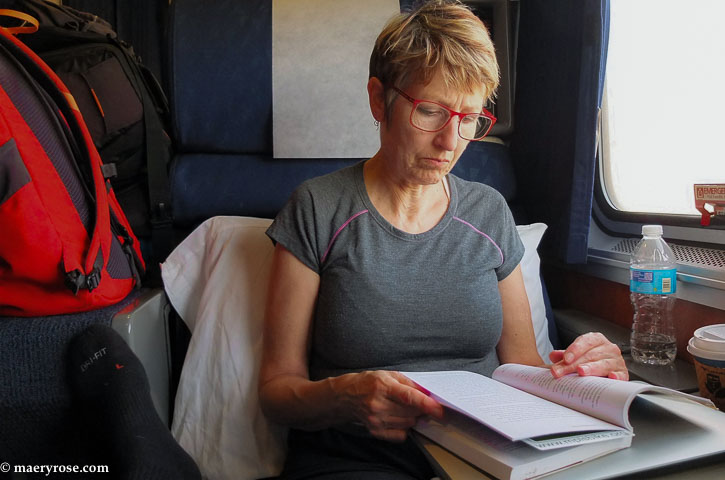 I'm actually not a good "sitting still" person but found being on the train, without wifi, where I wasn't able to accomplish ANYthing was a relief. It was good to be forced to sit still, to read, to write, and to stare out the window.
I loved traveling slow, getting a good long close look at the places passing by. Now there are rocky cliffs outside the window. Sometimes they come so close, I pull back, thinking the train will hit them.
As much as I enjoyed the train, next time we travel west, I'd like to have a camper in the bed of my truck (one more fantasy) so we can bring the dogs with us. I have missed them so much! I also would like to be able to stop along the way and get an even closer look at the character of all the places we are traveling through.
Now we are passing by "Wash Away" laundromat in Cut Bank, Montana. There seems to always be a laundromat in site when we pass a town on the train. I find the naming of these places and some of the small restaurants a good form of entertainment, which just goes to show how easily amused I am.
What I learned on this trip is that the times that stand out most in my mind, that I enjoyed the most, took place when we were out of the vehicle hiking. So vacation plans should include more time outside the vehicle than inside. Leave the scenic lookouts to other travelers.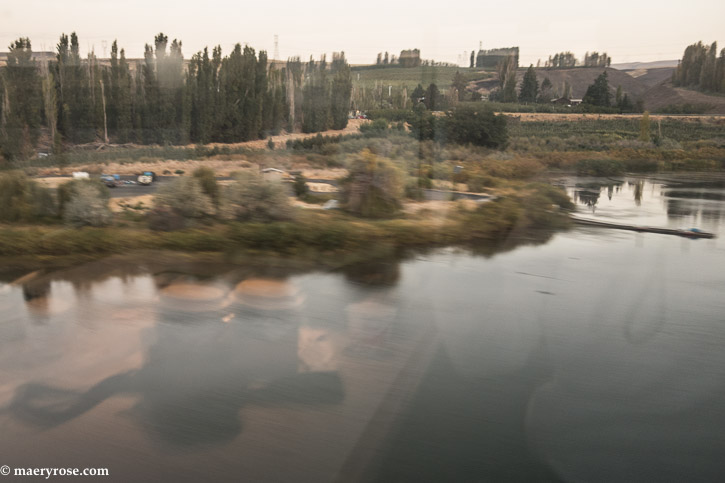 We just went past a pond where the wind was blowing and creating water murmations (like you see with starlings). Pretty cool.
And now we are passing by two guys racing over a hill on horseback. Looks like they are rounding up cattle. I hope they are going to go get the small horse laying down a few yards from the track and the three cows that are on the wrong side of the fence.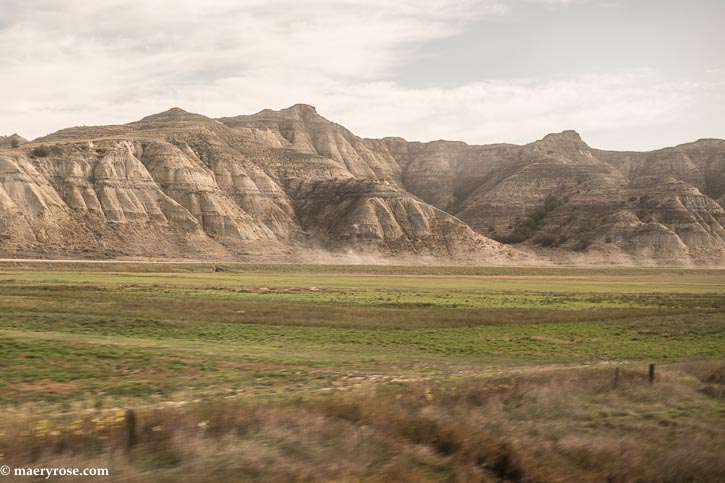 Our final day in Oregon, we went to Powell's Books in Portland. Since most of the book stores in my area have gone out of business, Powell's was like waving drugs in front of a drug addict. The bookstore takes up one full city block and has three floors full of new, used, and rare books (plus a 4th floor for customer service). They provide you with a map to navigate your way around. Still, Steve and I got separated and it took some phone conversations of "I'm by the windows… No, not those windows…" to find each other again.
I managed to come out with only one used book, an Orion magazine, and a Powell's t-shirt showing two of my favorite things: a bicycle and a bike-basket overflowing with books. Plus I walked out with a list of book titles I wrote down as I walked through the store that I plan look up at the library when I get home.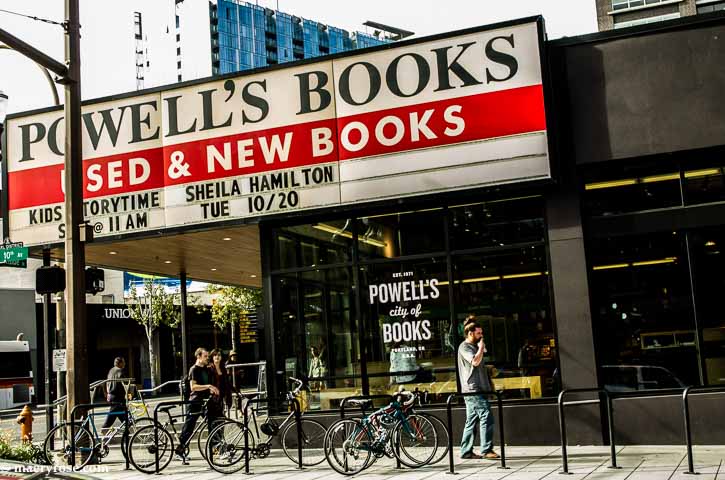 So our adventure is about done. Which is okay. I have so many great memories and new dreams for future travel.