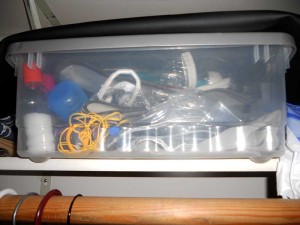 "I'd like to take all my thoughts and put them away on the top shelf of my closet in the plastic box that holds the small shampoo containers and soaps that I use when I travel. They'd be tidy and cutely contained. I'd just take them down from the shelf when I absolutely needed them."
I wrote that back in January of 1988, when I was trying to find my way out of an abusive marriage, but it still sounds like a good idea to me.
Back when I was a child I had a repetitive dream that I couldn't talk. Instead I used telepathy to converse with other people. I'd take their hand in mine, stare deeply into their eyes, and transfer all my thoughts and feelings over to them so they could feel the things I felt that I was never able to describe to anyone. My hope was that someone would finally understand me and help me. Unfortunately, the person who's hand I was holding usually screamed, went completely insane, and jumped off a cliff.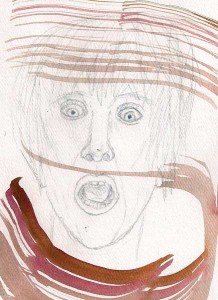 Sigh… Those dreams didn't exactly ease my mind about talking to people. Perhaps I shouldn't be writing right now, not that I destroy people, but I destroy the image of what I want to portray. I've lost perspective. I keep editing this post down, removing pieces of it, of me, that are "too much".
I keep hoping that something wonderful will happen. Something that takes my breath away and gives me hope and opens up a door that I never even dreamed of. Oh, wait. I already had that happen. You can't always trust those open doors. But I'd like a new door anyway, one that snaps me out of this, whatever this is.
I don't know.
Coping mechanisms. I have a number of them. Not all of them work anymore so I try to find new ones.
For now, I think I'm going to adopt another dog, buy four chickens, put in a bigger garden this spring, figure out how to turn my horse trailer dressing room into a sleeping room so I can use it for horse camping, plan a camping trip in the mountains of Colorado (hopefully with a river nearby), if my son moves to New York like he's planning, maybe I'll go there for Christmas, and I'll keep working on my book.
I'm kidding about some of those things, but not all.
I was late for work this morning because the sunrise caught my eye. I only caught the tail end of the light show through my bedroom window.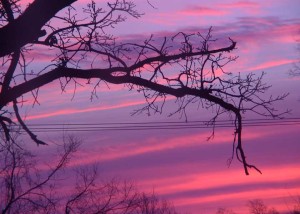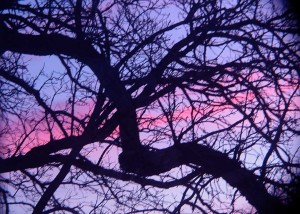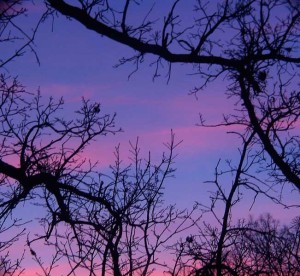 The temperatures were in the low 40's today and it rained for awhile. Things are definitely melting and Java and I walked by the river to see if it's rising at all. Not yet.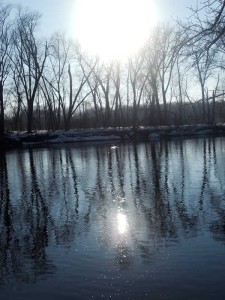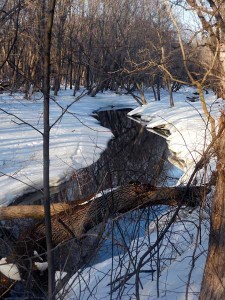 I'll keep watching and waiting.